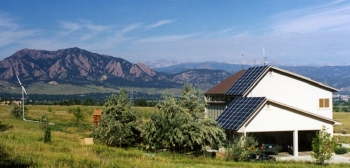 Producing clean energy not only saves money in the long term, but also provides independence and the satisfaction of knowing your actions are helping the environment.|Photo courtesy of Jim Green, National Renewable Energy Lab.
"Off the grid." Those three words typically conjure up the image of mountain men, tucked into the wilderness with long beards and scraggly hair, or communes out in the country with farmland and flowers galore, but with renewable energy becoming more and more accessible, your image of "off the grid," just may change. Neighborhoods are dotted with solar-paneled houses and wind systems, and taking the plunge into renewable energy at your home is more conceivable than ever before.
Analyze Electricity Needs
When considering renewable energy sources at home, your first step should be analyzing your electricity loads. What is the size (and cost) of the system you'll need? How do your energy needs fluctuate throughout the day or year? Are there ways to reduce your electricity use? Adopting more energy efficient habits or purchasing more efficient appliances can reduce your electricity use and allow you to purchase a smaller and less expensive renewable system.
Check Local Codes and Requirements
After you understand your energy needs, check into the local codes regarding renewable energy systems. Regulations differ from community to community and can affect the type of renewable energy system you can install. Building codes could require zoning approvals and local covenants could prevent certain systems due to noise or aesthetic appeal. Be sure to check with your building code office and homeowners association before purchasing a system. Electrical and building inspectors are also necessary to ensure your system complies with standards. You are more likely to pass inspection if you or your installer follows the National Electrical Code (NEC).
On or Off the Grid
Next, consider your location. Are you situated far away from the grid? If so, a completely off-grid system may be the most cost-effective choice. Otherwise, connecting to the grid may prove to be a wind-fall for homeowners, as your power provider may allow net metering.
Net metering requires only one meter that tracks both your energy use and what you are feeding the grid. With a net metering system, you only pay a power provider if you have used more grid electricity than what you've produced. If you produce more energy than you use, the power provider pays you retail price for your excess energy.
Whether you've chosen to live on or off the grid, in addition to your power sources (photovoltaic panels, wind turbines, or small hydropower systems) you will need "balance-of-system" equipment to safely transmit electricity. For an on-grid system, this equipment includes power conditioning equipment, safety equipment, and meters and instrumentation. If you are living off the grid, you will also need batteries and a charge controller that will help store electricity that you can use when your system isn't producing energy.
Renewable energy is a fantastic way to generate electricity at your home. It takes time and research, but producing clean energy can not only save money in the long term, it also provides independence and the satisfaction of knowing your actions are helping the environment.
Stay tuned for more information about picking the right renewable system and reaping the benefits of renewable energy in Part Two.