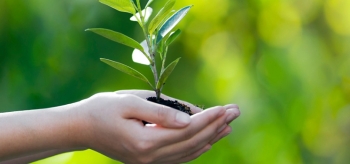 Earth Day is a great time to enjoy the outdoors and consider the environment. | Photo courtesy of ©iStockphoto.com/R9_RoNaLdO
Now that Tax Day's come and gone, we can all worry about something else for a while. Why not use that peace of mind to plan something fun?
Earth Day is later this month on Tuesday, April 22nd.  Let's face it—it's not a day off and it's on a Tuesday, so you're probably not going to do anything very special. But it's always fun to do something special now and then. Why not do something for the good ol' Earth and save a little energy at the same time?
We talk a lot about insulation and home energy audits and other fancy stuff, but energy saving doesn't always have to be a big deal. For example, for this Earth Day, I'm planning on grilling dinner. It's already warm enough now and the sun's up past 7:00, and it'll be even better on the 22nd. I can save the energy I would have spent using an oven or a microwave, and I can have a steak and pretend that the first 70-degree days mean that it's actually summer. It's win-win.
But there are all sorts of little things you can do. Why not turn off your computer or TV for the evening and go for a walk? Or have a special candlelit dinner? Or you could even just pick up a few plants for the garden—it's not landscaping, but it's fun and it'll give you an excuse to get away from the electronics for a while.
Because hey, energy saving doesn't have to be a big to-do. Sometimes it just takes an evening and an excuse to do something a little different for a night.