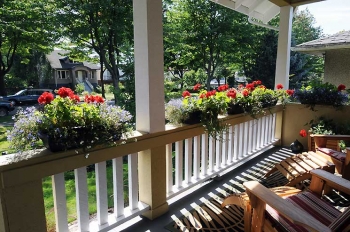 Landscaping can be beautiful, but it can also help you save energy. | Photo courtesy of Photo courtesy of ©iStockphoto.com/DigiStu
I was out grocery shopping this weekend when I saw that the store had put up the year's first little display of potting trays and seeds. I was delighted! The weather's warming up, the sun's coming out, and there are seeds for sale.  It's nearly spring! And that means it's nearly time to plant flowers again!
I have no idea why I get excited about flowers. For the last few years, I've gotten into the habit of putting flowers all over my porch. Sometimes, if I'm feeling especially adventurous, I'll try to grow something useful, like herbs. And every year, it's the same story: They hold out for a month or two, and then I accidentally kill them. I don't notice the bugs. I notice the bugs, but destroy everyone and everything in an attempt to purge them. I underwater. I overwater. I forget about the weather. My touch is apparently the kiss of death for anything green and growing, but it doesn't stop me. I must have flowers!
If you're thinking about plants, too, you might want to check out Energy Saver, which has a nice section on landscaping. Landscaping can actually be a clever—and beautiful!—way to shade your home from the summer sun, and proper landscaping can help with water usage.
Unfortunately, I live in an apartment, so the only thing I can do is beautify my porch. (For a week or two, at least.) But if you're getting ready for spring, it couldn't hurt to think about whether your landscaping will be part of your energy efficiency plans this year!