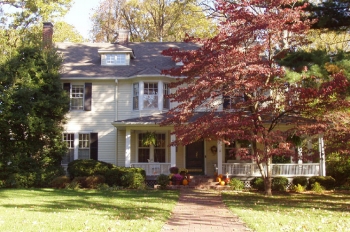 Trees can save you energy by blocking sunlight in the summer and letting it through in the winter. | Photo courtesy of ©iStockphoto/blackie
The other day my fiancé and I were walking around town and commenting on the houses we liked. I liked houses with exposed brick and lots and lots of trees. He liked big windows and hated it when a tree looked like it might have blocked any light going into them.
"Oh," I said, "but it might actually help in summer. If you have a big deciduous tree in front of a sunny window, it blocks the sun in the summer, but lets it in in the winter when you actually need the heat!"
He just shot me a look. And that's fine. Writing for Energy Saver has made me kind of obnoxious when it comes to random things you can do to your house.
But it's true! Landscaping can be used tactically, and when placed in clever places it can actually save you energy. We live in the Pacific Northwest where air conditioning is nice to have, but far from required. (I say, even though it's supposed to be in the low 90s all week…) And when you live in a place like this, a well-placed tree might be all you have to keep you a little cooler.
The "tactically placed tree" method can be a great, natural way to keep sunlight (and warmth!) out of your home in summer and let it in in winter, which can be great if you want to save money on heating. But it's not the only thing you're stuck with if you don't have air conditioning! Check out these pages for a few more ideas: