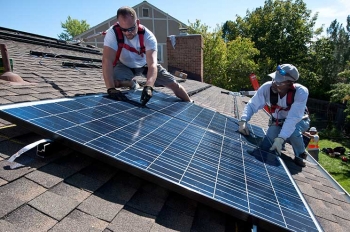 Home solar systems can save you energy and money. | Photo courtesy of Dennis Schroeder, NREL 22168.
Well, it's that time of year! Days are getting longer and the weather is getting warmer. How can you take advantage of longer sunlight hours? Dinner on your porch might be one good solution, but an even better one might be considering a home solar power system!
Here are some things to consider:
Location: If you have a southern facing home that is relatively shade free, your chances are good for having adequate solar resources to make a solar power system worth it.
Tax credits and utility incentives: The federal tax credit for 30% of the cost of solar energy systems is available through 2016. Also, don't forget to look for state and local incentives. Check out our Database of State Incentives for Renewables and Efficiency to find out what kinds of incentives are currently offered in your area. Local and state incentives can vary and may make a big difference in whether a solar power system for your home is right for you.
Research local permitting and neighborhood covenants: Make sure you obtain any necessary permits from your city or county building departments. Usually, these include both a building permit and an electrical permit. If you live in a neighborhood with a homeowners association, it's also likely you'll need to submit your plans well ahead of time for approval before you start any construction.
System size: Consider whether your roof is large enough for the size system you require. It's also a good idea to analyze how much electricity you use month-to-month, and assess whether the system you want to install will meet your needs.
Solar systems can be a reliable way to use renewable energy sources to produce electricity for your home. The Energy Department has some great online resources for planning a home solar electric system and installing and maintaining a home solar electric system if you're interested in learning more about home solar systems.