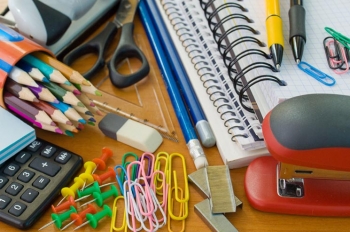 Save energy and money while buying school supplies this year. | Photo courtesy of ©iStockphoto/Ls9907
It seems back-to-school shopping lists get longer every year! This year, you can reduce the impact your back-to-school shopping has on energy and the environment by making a few simple choices.
Just use the mantra: reuse, reduce, recycle!
Reuse
Reusing items is the best way to minimize the environmental and energy impact of your day-to-day lifestyle. Think of the items your household consumes, and look into investing in their reusable counterparts. You can take 180 brown paper bags and plastic bottles off the road by sending each kid to school with a reusable lunchbox and a water bottle!
Reduce
Reduce the amount of new items you're buying. The best way to save energy and money is to not buy anything; the most energy-efficient product is the one not manufactured, packed, or shipped at all! Take a detailed inventory of the school supplies you already have on hand from last year and make sure not to waste money on new items that you don't need.
Another way to reduce is to ensure the items you do need to buy use the least amount of energy possible. If you're planning to purchase computers or electronics, be sure they are ENERGY STAR® qualified. Purchasing energy-efficient products helps ensure you will save money and energy all through the school year.
Recycle
We all know it's important to put things like paper and plastic into the recycling stream, but it's even more important to complete the cycle! You can help drive demand for recycled goods by purchasing items that contain a high level of post-consumer materials. Look for paper notebooks, pens, bags, reusable food storage items, and even clothes made from recycled materials!
You'll send your kids back to school knowing you've saved as much energy (and probably money, too) as possible.
2013 Back-to-Green School Supply List
Reusable lunchbox
Reusable water bottle
Reusable snack bags
Last year's backpack, pencil pouch, and combination lock
Last year's ruler, pens, and markers
Recycled paper notebooks
Recycled filler paper
Recycled wood pencils
Reusable food storage containers made from recycled plastic
Solar powered calculator
Manual pencil sharpener
ENERGY STAR computers and electronics.