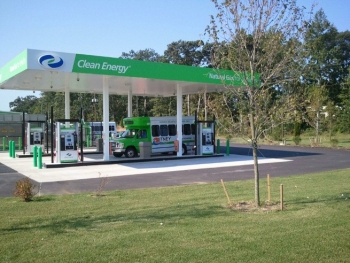 Natural gas jitneys like this are Atlantic City's main form of public transportation. These vehicles were used to evacuate vulnerable residents during Hurricane Sandy. This vehicle is fueling up at a natural gas station built, owned, and operated by Clean Energy Fuels, who kept the station running despite widespread shortages of gasoline and diesel elsewhere. | Photo courtesy of Clean Energy
Atlantic City, New Jersey, is typically known for its boardwalk, casinos, and inspiration for the board game Monopoly. But last weekend, none of that mattered as it faced the fury of Hurricane Sandy. With a record 13 foot storm surge along the Jersey Coast, many residents needed to leave the shore for the mainland. Although most people took their personal vehicles, some of the area's most vulnerable residents rode in clean-fuel vehicles supported by the Department of Energy through the Recovery Act.
In 2009, the New Jersey Clean Cities coalition received $15 million in Recovery Act funding to purchase more than 270 compressed natural gas vehicles, including 190 Atlantic City "jitneys." The jitneys, minibuses run by owner-operators, have been Atlantic City's main form of public transportation since 1915. By paying for the cost difference between gasoline and natural gas vehicles, the award allowed the Jitney Association to replace their entire aging fleet with a cleaner alternative.
As a major transit fleet, Atlantic City naturally included the jitneys in its emergency plan. As the hurricane approached, the vehicles were pressed into action. Thirty of the jitneys evacuated people who could not transport themselves, including elderly and disabled residents living along the Boardwalk, protecting them from catastrophic flooding and wind. Other jitneys transported clinic patients to medical treatments and helped those staying behind gather emergency goods such as food and water. Despite the unusual circumstances, the natural gas powered jitneys served their community well in its time of need. In fact, the use of compressed natural gas for vehicles is an asset in the aftermath of natural disasters, as gasoline and diesel fuel are often in short supply.
Even in non-emergency situations, natural gas offers many benefits over petroleum-based fuels. Replacing gasoline minibuses with those running on natural gas helped the small business owner-operators reduce their reliance on foreign oil and lower their operational costs. The natural gas vehicles also produce less smog-forming pollution than the conventional counterparts they replaced.
When Hurricane Sandy threatened people's lives, New Jersey took action to protect its residents. We're proud that vehicles we supported helped in the effort and demonstrated that alternative fuel vehicles are up to meeting any challenge.