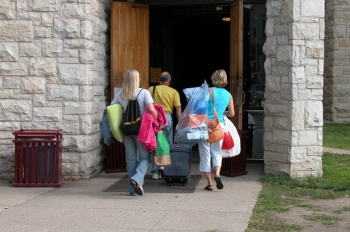 By taking energy savings into account when you move in this year, you can put some money back in your pocket. | Photo courtesy of ©iStockphoto/ArtBoyMB
Are you ready? You've packed up all of your ultra-mobile plastic sets of drawers, brightly colored furnishings, sweatpants and hoodies, and school supplies into the hand-me-down car from your parents and you're about to hit the road for another year at college.
This year, though, instead of heading back to the dorms, you're going to be living in your very first apartment! And, of course, with your very first apartment often comes your very first utility bill. So, how can you keep your energy bills under control so you can spend more time studying for exams and less time babysitting to be able to afford to power your apartment? Well, look no further!
This school year, you are bound to meet many new friends. Just make sure to meet a life-long best friend named the energy-efficient light bulb. Chances are you are going to be spending many nights studying into the wee hours of the morning, so you'll need to make sure your light sockets are equipped with energy-efficient LED or fluorescent lights instead of incandescent lights. LEDs use at least 75% less energy and have a 25% longer lifespan than traditional incandescent lights. However, be sure to also follow these guidelines when determining when you should turn out the lights.
Purchasing a mini-fridge? Make sure you choose one labeled as ENERGY STAR®. ENERGY STAR mini-fridges must be at least 15% above the minimum federal standard for energy efficiency. And remember, where you're saving energy, you're saving money.
Last, but certainly not least, window coverings can make a world of difference in helping you maintain a comfortable temperature in your humble abode. No, the standard-issue mini-blinds are not enough. They aren't just for decoration—drapes and other window treatments help keep rooms at a comfortable temperature. In the summer, they help keep the room cool by blocking the sun out, and in the winter, heavy window treatments can help keep the draft out. If you're feeling adventurous, you can even get crafty and make your own.
So, as you head back to school this year, just remember these little tips to help put some big money back in your pocket!