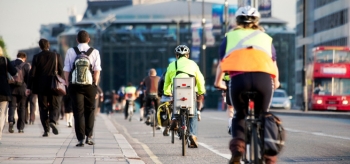 Biking to work is a great way to save money on gas and get some exercise. | Photo courtesy of ©iStockphoto.com/DesignSensation
Despite the occasional cold front, spring finally seems to be blooming across the country. And now that it's May, I've started to see the first advertisements for a nearby city's annual commute challenge.
These competitions happen all across the country. Some are strictly bike-to-work challenges, where as many employees as possible to commute on their bikes. Other cities have more general commuter challenges, where the goal is to go a week without driving (at least by yourself) to work. These encourage people to bike, walk, carpool, or take public transportation.
So why not see if your city has one? Just search online for "commuter challenge" and the name of your city. See what pops up! These challenges generally happen sometime between June and September. They're sometimes competitive, they can be fun, and—most importantly—they encourage you to think about your commute in a different way.
Who knows? Maybe you'll even find a great, non-traditional way to commute to work. And then you can save money on gas! If you must drive, you can also check out our energy-efficient driving tips.