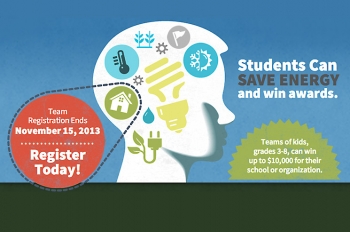 Students can register now to save energy and win prizes with the Home Energy Challenge.
Third through eighth grade students and teachers will be excited to hear about a competition starting up for next school year that challenges students to learn about energy, develop techniques for saving energy, and help their families save money on their energy bills. America's Home Energy Education Challenge, now open for registration, invites students and teachers to climb on board for this fun and friendly competition that teaches them simple, effective ways to make their homes more energy efficient. The Challenge is also open to after school energy clubs, 4-H clubs, and home-schooled students.
Learn more about how to participate in the competition, which was developed by the U.S. Department of Energy and the National Science Teachers Association, at HomeEnergyChallenge.org. See the Energy Department's announcement for a summary.
One part of the competition, called the Home Energy Challenge, provides a concise curriculum to teach students about energy issues – what it is, where it comes from, and how to reduce its consumption – in five easy sessions. Student teams will establish a baseline using three months of last year's energy bills, create an energy use savings plan, and try to lower their homes' energy consumption using the tips presented in the lessons or picked up from other sources. Then, they'll compare their home's energy use against last year's, after putting their energy use savings plan into action, and see how much energy they saved. The teams that make the most powerful presentation of their progress in understanding and saving energy will win prizes.
Another option for students to engage is the Energy Fitness Award, an individual challenge designed in the mold of the President's Physical Fitness Test. The Energy Fitness Award challenges students to deepen their knowledge of energy issues and gives them a chance to learn where their energy comes from and how to use it wisely.
There's also a poster competition open to all students – including those unable to get their household energy bills from last year. Registration for America's Home Energy Education Challenge is now open and runs through November 15th, 2013. The challenge will be completed during the 2013-2014 school year.