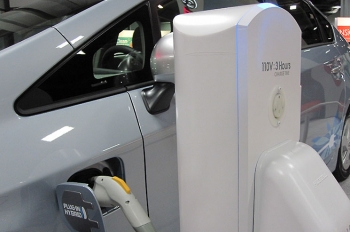 A variety of hybrid and all-electric vehicles are available for consumers. | Photo courtesy of Andrew Hudgins, NREL 17078.
I love to look at new cars! Even though I'm not interested at buying one, I love looking at all the cool features. Back-up cameras and GPSes!  Music, playlists, touchpads and phones! There are so many cool things built into cars these days that it's almost unbelievable. I mean, when I bought my current car all I wanted was power windows. 
But what's super cool is that there are several hybrid and plug-in hybrid vehicles on the market. So, on top of everything else, you could also choose a car that gets a ton of miles to the gallon—or even one that doesn't use gas at all!
Since I'm not planning to buy a new car until my current one rusts out from underneath me, I'm going to have to wait. But if you're interested in what a more efficient vehicle could do for you, you can check out FuelEconomy.gov's Compare Side-by-Side pages for hybrid vehicles and plug-in hybrid vehicles. They'll will show you how efficient each car is, the average annual cost to fuel it, and—for the plug-ins—the total driving range of the vehicle.
And if you're really interested in learning more, the Can a Hybrid Save Me Money? page lets you plug in your own stats and calculate if a hybrid could save you money.
So whether you're looking for a new car or just like to window shop, there are some really interesting cars to look at!