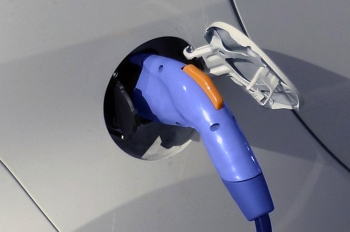 Consider the convenient options for plugging in an electric vehicle at home. | Photo courtesy of Tony Markel , NREL 18488.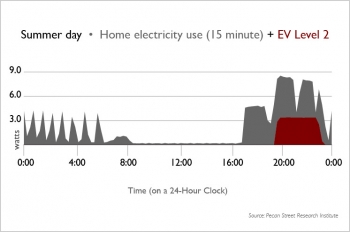 Chart showing EV Level 2 electricity compared with other home appliances. | Image courtesy of Pecan Street Research Institute.
So you've decided to make the switch to a plug-in electric vehicle (PEV), attracted by its fuel savings, environmental benefits, and the convenience of "refueling" (i.e. recharging) at home. But now you need to know your options for charging a PEV at home, the costs, and the best times to charge. Here's some helpful information to get you started on charging your PEV and saving money.
There are two popular options for charging a PEV at home. Level 1 charging is the simplest, and does not require any additional charging equipment. To begin charging, simply plug your vehicle into a standard 120 volt outlet – the most common outlet found in U.S. homes – and rest easy knowing your vehicle is refueling itself while you sleep. Level 1 charging, which adds about 2 to 5 miles of electric-drive range per hour of charging, may be a suitable option for those with shorter commutes or for those who can leave their vehicle plugged in for an extended period of time. Level 1 might also be a good choice for those who can charge their vehicles at work in addition to at home. Check out the Energy Department's Workplace Charging Challenge to find out more about what the Department is doing to expand workplace charging.
For those with a longer commute, Level 2 charging may be a better option. You will need to purchase and install specific charging equipment (some of which may qualify for state financial incentives) that allows you to plug your PEV into a 240 volt outlet. Depending on the battery type, circuit capacity, and vehicle, Level 2 charging can add about 10 to 20 miles of electric-drive range per hour of charging time.
So now that you know about the most common at-home charging options, what will charging your PEV cost and when is the best time for charging? This might come as a surprise - charging your PEV may consume less electricity than a typical water heater! A Level 1 charger draws a similar amount of power as many other household appliances that you would leave on for an extended period of time. For example, it draws the same amount of power as an efficient dishwasher (and only half as much as inefficient ones), so charging your car on a Level 1 charger would be similar to running several loads of dishes in a row. Even with its higher voltage, Level 2 charging consumes less energy than a residential air conditioning system. Check out the chart above based on data from the Pecan Street Project, which compares the power and energy used to charge a PEV with a Level 2 charger (in red) compared to the total power and energy consumed by other household appliances (in gray).
Whether you choose to use Level 1 or Level 2 charging, or a combination of at-home and workplace charging, the added benefit of "refueling" your vehicle at home while you sleep or at the workplace while you work not only reduces pollution and carbon emissions, but can also save you money. Visit the Department's Alternative Fuels Data Center to learn more about PEV charging.