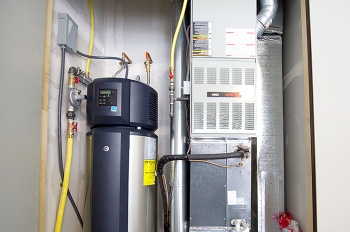 An efficient heater can save money and energy while keeping you warmer. | Photo by Dennis Schroeder, NREL 20288.
Last week, I turned on the weather forecast to find that the entire central United States was hovering somewhere between 5 and 20 degrees. Talk about frigid! I've lived all over the country, and I know how incredibly miserable it is to do anything when the high barely ekes above 0 degrees Fahrenheit. I also know what it's like to crank the heat up—and up and up and up!—and to still find myself in an uncomfortably cold home.
And if your home feels colder than it should be, then you might want to look into why. We posted about energy audits a few weeks ago. Starting the year off with an energy audit is a great way to find out where your home is losing heat. And making small fixes to keep the heat in will keep your house warmer and your wallet a little fuller.
But if you're looking for more general information, then the Heating section on Energy Saver would be a great place to start. There's information on everything from furnaces and boilers to wood and pellet heating, and lots of general information to get you started.
So if your heating solutions aren't keeping you as warm as you'd like this winter, that might be a good reason to start looking into what options you have. So check out the Heating section, start from there, and look around! You might discover a way to make your home a little more cozy, even when it's uncomfortably cold outside.