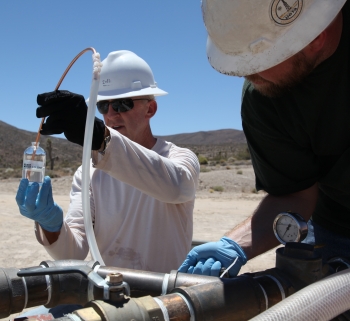 Field personnel collect groundwater samples at a well in Yucca Flat as part of the NNSS groundwater characterization program. Though contamination from underground testing has never been detected on public land, DOE is committed to developing an advanced, reliable monitoring network that ensures the long-term protection of the public. Risks associated with contamination remain low due to the immobility of some contaminants and the extremely slow movement of others.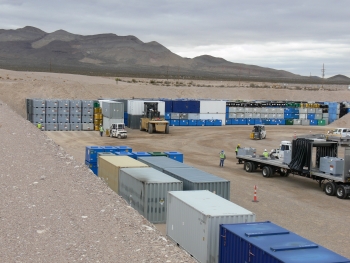 Ongoing at the NNSS since 1961, disposal of low-level/mixed low-level radioactive waste (which typically consists of radioactively-contaminated trash, soil, equipment, tools, and discarded personal protective clothing) is generally conducted without any special equipment or clothing, as the level of radioactivity is usually relatively low and the packaging provides the necessary protection.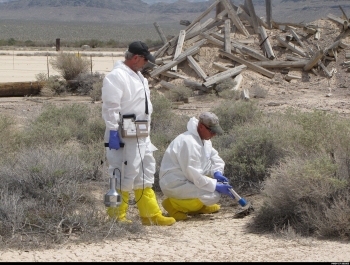 Radiation Control Technicians (RCTs) survey old radium dials remaining at the site of the historic Hamilton atmospheric nuclear test conducted at 8am on October 15, 1958, in Area 5 of the NNSS. This site is undergoing investigation to determine what corrective actions, if any, are necessary. The wood debris seen in the mound behind the RCTS is what remains of the 50-foot tower upon which the nuclear device was detonated (yield of 1.2 tons).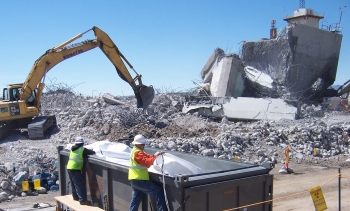 Packaging of low-level radioactive waste generated by the demolition of the Reactor Maintenance, Assembly, and Disassembly (R-MAD) facility. R-MAD was part of the Nuclear Rocket Development Station that operated at the NNSS between 1958 and 1971. As is required with other Industrial Sites, Soils and Underground Test Area locations, R-MAD investigation and corrective action plans were approved by the state of Nevada under the Federal Facility Agreement and Consent Order.
HISTORY
In 1950, President Truman established what is now known as the Nevada National Security Site (NNSS) to perform nuclear weapons testing activities.  In support of national defense initiatives, a total of 928 atmospheric and underground nuclear weapons tests were conducted at the NNSS between 1951 and 1992, when a moratorium on nuclear testing went into effect. Today, the NNSS is a large, geographically-diverse research, evaluation and development complex that supports homeland security, national defense, and nuclear nonproliferation.
OVERVIEW
The U.S. Department of Energy's Environmental Management (EM) Program was established in 1989 to identify and address areas impacted by historical nuclear research, development, and testing across the United Sites. In Nevada, EM activities focus on: groundwater, soil, and on-site facilities; radioactive, hazardous, and sanitary waste management and disposal; and environmental planning.
GROUNDWATER CHARACTERIZATION
As a result of historic underground nuclear testing, some of the groundwater beneath the NNSS is contaminated. At this time, there is no proven, cost-effective technology that removes deep, extensive contamination from complex geology. Therefore, the NNSS is forecasting the location, potential direction and flow of contaminants. This is accomplished through strategically-placed well drilling and extensive sampling which provides data for computer models. All this information is used to enhance and expand the monitoring network, which helps ensure the protection of the public.
RADIOACTIVE WASTE DISPOSAL
The low-level radioactive waste disposed at the NNSS is generated by cleanup activities at the NNSS and other U.S. Department of Energy and U.S. Department of Defense sites across the country. Examples of this waste include contaminated construction debris, scrap metal, soil, and equipment. Some of this waste includes hazardous constituents, which are regulated by the State of Nevada as delegated by the EPA.
ENVIRONMENTAL MONITORING AND REPORTING
For the protection of the environment and the public, NNSS specialists routinely sample air, water, geology, and biota.  All activities are conducted in compliance with federal laws/regulations and state permits.  Results of all environmental protection activities are reported annually in the Nevada National Security Site Environmental Report.