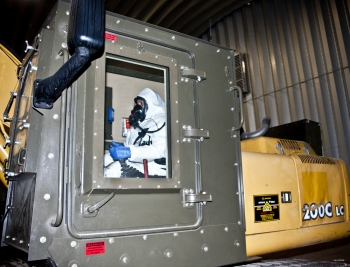 At Los Alamos National Laboratory, $94 million in Recovery Act funding is being used to clean up the Lab's oldest waste disposal site, Material Disposal Area B (MDA-B), which was used from 1944 to 1948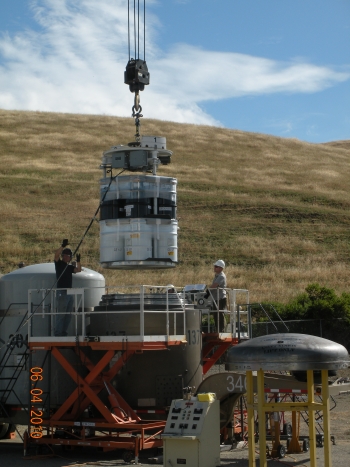 Employees load transuranic waste into a shipping container at Vallecitos Nuclear Center
HISTORY
Los Alamos National Laboratory (LANL) is located in Los Alamos County in north central New Mexico (NM). LANL, founded in 1943 during World War II as Project Y, served as a secret facility for research and development of the first nuclear weapon. The site was chosen because the area provided controlled access, steep canyons for testing high explosives, and existing infrastructure.  The Manhattan Project's research and development efforts that were previously spread throughout the nation became centralized at LANL. The Laboratory's original mission to design, develop, and test nuclear weapons has broadened and evolved as technologies, priorities, and the world community have changed.
Today, LANL is responsible for the safety, security, and effectiveness of the nuclear explosive packages in the stockpile. LANL stands with Lawrence Livermore National Laboratory as one of the two United States laboratories dedicated to the design surety of nuclear weapons. In addition to nuclear weapons stewardship, LANL's mission includes nuclear nonproliferation and counter-terrorism, particle accelerator developments, health physics, fusion power research, and significant super-computing capabilities. Notably, in the field of health research, LANL recently made breakthroughs on a potential HIV/AIDS vaccine and cancer detection and treatment technologies.
The Manhattan Project's research and development efforts left an environmental legacy.  Today, the LANL Cleanup Project is responsible for the treatment, storage and disposition of a variety of radioactive and hazardous waste streams, removal and disposition of buried waste, protection of the regional aquifer, and removal or deactivation on unneeded facilities.
SITE OVERVIEW
The environmental cleanup of Los Alamos has progressed over the years.  As shown in the following chart, annual funding levels ranging from $115 to $225 million, as well as additional ARRA funding of $212 million,  have allowed the site to achieve steady progress in all key cleanup areas, including facility completion (~48% complete), remediation completions (~47% complete), and TRU waste disposition (~42% complete). More details on the progress in these areas is provided under the chart sub-headings.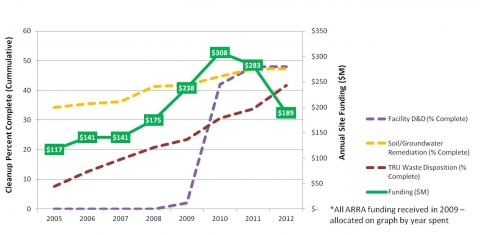 Figure 1: Annual funding and cumulative cleanup percent complete at the Los Alamos National Laboratory
TRANSURANIC WASTE
LANL began segregating and storing transuranic (TRU) waste generated in its nuclear material research and development activities in the early 1970's when the U.S. Atomic Energy Commission directed that its sites begin to segregate waste with "transuranic nuclides" and store it for future disposition in a deep geologic repository. By the time that the Waste Isolation Pilot Plant (WIPP) opened in 1999, LANL had built up an inventory of about 9,600 m3 of TRU waste in storage at its TA-54 Area G waste management facility. Although LANL began shipping TRU waste when WIPP opened in 1999, volumes shipped during the first five years were very low and newly-generated (post FY98) TRU waste has continued to be received for storage. As of October 1, 2011, LANL had a total volume of TRU waste in storage at Area G of 6,935 m3 with a plutonium 239-equivalent curie (PE-Ci) content of 187,684 curies. Of this total, about one-third (2,399 m3 with an activity of 110,751 PE-Ci) is stored below grade in pits, trenches, and shafts and covered with soil.  Over the last 3 years (FY09-FY11), LANL has transported more than 450 shipments safely to WIPP with new records for LANL TRU shipments set each year.  The 1,000th shipment to WIPP occurred in June 2012.
SOIL AND GROUNDWATER
The environmental restoration and cleanup work at LANL is organized into several projects that have responsibility for different aspects of environmental restoration:  The Corrective Actions Program (includes investigation and remediation in canyons); The Technical Area (TA) -21 Closure Project; and The TA-54 Closure Project.  The goal of these programs is to ensure that residual contaminants from past Laboratory operations do not threaten human or environmental health and safety. To achieve this goal, the Laboratory is investigating and, as necessary, remediating sites contaminated by past Laboratory operations. 
The Corrective Action Program investigates consolidated units, SWMUs, and AOCs intermixed with active Laboratory operations as well as sites located within the Los Alamos town site (property currently owned by private citizens, businesses, or Los Alamos County) and property administered by the U.S. Forest Service (USFS), the National Park Service, and the U.S. Department of Energy (DOE). The Corrective Action Program also includes the canyons investigations, the groundwater monitoring program (implemented through the annual Interim Facility-Wide Groundwater Monitoring Plan), storm water and surface water monitoring, and the implementation of best management practices to minimize erosion. 
The TA-21 Closure Program involves all of the sites associated with TA-21 and includes Material Disposal Areas (MDAs) A, B, T, U, and V; various process waste lines; a radioactive waste treatment system; and the Delta Prime (DP) Site Aggregate Area sumps, outfalls, leach fields, historic container storage areas, and other former facilities. The Laboratory received additional funding for environmental cleanup projects as part of the American Recovery and Reinvestment Act, which includes the decontamination and demolition of most of the buildings at TA-21, removal and disposal of waste from MDA B, and the installation of groundwater monitoring wells.
The TA-54 Closure Program involves all of the sites associated with TA-54 and includes MDAs G, H, and L. Activities involve periodic monitoring of the groundwater and vadose zone as well as the development and implementation of corrective measures for the MDAs.
FACILITY DEACTIVATION AND DECOMISSIONING (D&D)
Several facilities require decommissioning and decontamination in order to complete the EM mission at LANL, including structures at TA-21 and TA-54. Included in this project are process contaminated plutonium and tritium facilities at TA-21 and over 100 waste management facilities and structures at TA-54.  The majority of DP East/West buildings, and the Tritium Systems Test Assembly (TSTA) facility, have been removed under ARRA D&D projects.
REMAINING CLEANUP REQUIREMENTS
Completing the remaining cleanup requirements will achieve significant risk reduction by completing removal of all retrievable above and below ground waste, completing D&D of all facilities at TA-54 and TA-21, and implementing final remedies of the 5 major remaining MDAs. 
The current cleanup focus is on disposition of containers stored above grade. Working together, the Department of Energy's National Nuclear Security Administration (DOE/NNSA) and the Environment Department formed a framework agreement that realigns environmental priorities at the Laboratory based on risk. As a result of the framework agreement, LANL agreed to ship the 3,706 m3 of combustible and dispersible TRU waste stored aboveground at Area G to licensed facilities for permanent disposal by June 30, 2014.  About 385 shipments from LANL to WIPP are projected to ship this volume of waste, at a rate of 5 to 6 shipments a week. A plan for disposition of the below-ground TRU requiring retrieval at Area G is being development and will be submitted to the state regulator by December 31, 2012.
Of the original ~2,100 environmental restoration sites originally requiring evaluation, approximately half of the sites have been completed. Of the remaining sites, initial investigations have been completed on approximately 90%.   Of the 26 original Material Disposal Areas (MDAs), removal and cleanup has occurred on 10 (7 since 2007). Investigations have been completed for 5 of the major MDAs (C, G, H, L and T) and remedy selection is in process for MDAs G, H &L.  The remaining MDAs are in the investigation phase. 
Remaining D&D scope includes Building 21-257 adjacent to MDA T at TA-21 and waste process lines, trenches, and sumps under the buildings at TA-21. Remaining facilities to D&D at TA-54 Areas G and L include D&D of domes, pads and buildings and foundations. D&D of the TA-54 facilities is needed to facilitate the implementation of the final covers at MDA L and MDA G, which is the final milestone in LANL's environmental cleanup program.