Tracy Mustin - Principal Deputy Assistant Secretary for Environmental Management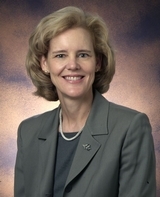 Tracy Mustin has been the Principal Deputy Assistant Secretary for Environmental Management since August 2011. In this capacity, she is responsible for the policy direction, management, and execution of the Department of Energy's nuclear cleanup portfolio.
Tracy has almost 20 years of leadership, management, and technical experience in a wide variety of programs across the Department. Since joining the Department in 1991 and spending a year as part of the New Production Reactors Program, Tracy spent the next 10 years in the Office of Environmental Management, managing programs to stabilize buildings at the Rocky Flats Plant, ship foreign research reactor spent nuclear fuel to the United States, and transport nuclear and other radioactive materials from DOE sites to storage and disposal facilities. Tracy was instrumental in the first shipment of TRIGA research reactor spent fuel from the west coast to Idaho and in planning shipments of spent fuel from West Valley.
Since 2003, Tracy has served in a variety of leadership roles in the National Nuclear Security Administration (NNSA), most recently as the Chief of Staff to the Administrator of NNSA. She also served as the Director of the Second Line of Defense Program, an international nuclear nonproliferation program under which the DOE provides equipment, training, and technical support to foreign partners to enhance their capabilities to detect and deter illicit trafficking of nuclear and radiological material across international borders including land border crossings, airports and seaports. Under this program, NNSA has played a critical role in global efforts to combat nuclear terrorism. Tracy also served as the Department's representative to the National Security Staff in the preparation for the 2010 Nuclear Security Summit, a key element of President Obama's nuclear security agenda.
Ms. Mustin served in the U.S. Navy on active duty from 1984-1991 and then as a reserve officer. She retired as a Captain in the Navy Civil Engineer Corps in October 2009.
Tracy joined the career Senior Executive Service in January 2008.
Tracy was the recipient of the Partnership for Public Service's Service to America Medal for Homeland Security in 2007.
Ms. Mustin graduated from North Carolina State University and holds a B.S. in Chemical Engineering. She is married to Lloyd M. Mustin II and resides in McLean, VA.