Melody C. Bell - Acting Deputy Assistant Secretary for Human Capital and Corporate Services for Environmental Management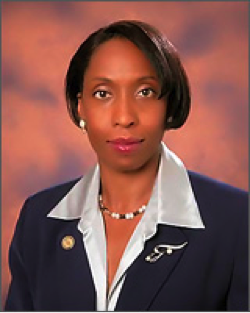 Ms. Melody Bell, is currently the acting Deputy Assistant Secretary for Human Capital and Corporate Services in the Office of Environmental Management.  Previously she served as the Senior Advisor to the Associate Deputy Secretary (ADS) at the U.S. Department of Energy (DOE).  Secretary Chu established the Office of the ADS to drive improvements in mission execution and assure that they are efficiently and effectively implemented throughout the Department of Energy. Ms. Bell also served as the Deputy Assistant Secretary for Business Administration and the Director of Program Execution Support in the Office of Energy Efficiency and Renewable Energy (EERE) at DOE.  Business Administration is the central organization for all EERE business products, processes, and systems to include human capital management, budget and finance, acquisition service, IT and project management.  In her prior position at DOE, Ms. Bell served as the Deputy Director of the Office of Transformation for the National Nuclear Security Administration where she assessed and developed policy to enhance and improve effectiveness, utility, and efficiency of the nuclear weapons complex.
Ms. Bell previously served in a variety of management and director-level positions with DOE's National Nuclear Security Administration (NNSA). Before her posts at NNSA, she worked with DOE's Rocky Flats office as the Team Lead and Contracting Officer for the Performance-Based Integrating and Management Contract, Kaiser-Hill, and as an environmental engineer.
Ms. Bell began her career as an Officer in the United States Air Force, where she managed several projects and contracts in support of major Air Force weapon systems. Her personal commendations include the National Defense Service Medal, the Air Force Organizational Excellence Award Ribbon, and the Air Force Longevity Service Award Ribbon.
Ms. Bell has a Masters of Science in Environmental Sciences from the Colorado School of Mines, a Masters of Business Administration from Pepperdine University, and a Bachelors of Science in Engineering Mechanics from the U.S. Air Force Academy.