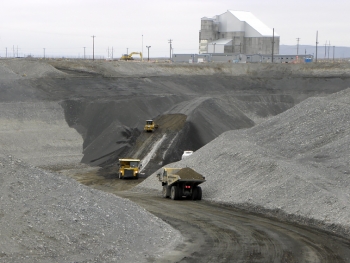 A hole near Hanford's D Reactor now 85 feet deep is shown when it was about 70 feet deep.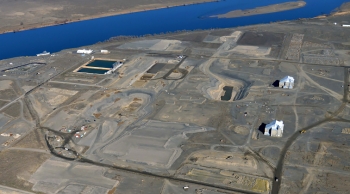 An aerial view of D and DR Reactor sites with the Columbia River.
RICHLAND, Wash. – EM's Richland Operations Office (RL) and contractor Washington Closure Hanford (WCH) have removed what is believed to be the primary source of chromium contamination to the Columbia River near Hanford's D Reactor after workers excavated 2.2 million tons of material from waste sites.
   Two waste sites near D and DR Reactors, 100-D-104 and 100-D-30, were merged together, equaling a little more than seven football fields in area at the excavation surface and a single football field in size at the bottom. The excavation at these two sites was close to 880,000 tons. About 1.32 million tons also were excavated from a third waste site, 100-D-100. Together, remediation of all the 100-D waste sites has removed 2.2 million tons of material, of which 760,000 tons of contaminated soils were disposed of in Hanford's onsite disposal facility, the Environmental Restoration Disposal Facility (ERDF). Nearly 60,000-tons of this contaminated material required treatment to meet regulatory requirements prior to disposal.
   "The completion of these large waste sites removes the mother lode of chromium contamination in the reactor area," said RL Federal Project Director Mark French.
The contamination is the result of sodium dichromate leaks or spills during reactor operations from the 1940s to 1960s. Sodium dichromate was added to the cooling water of eight of Hanford's nine reactors to prevent corrosion of the piping system. Large quantities of the chemical were transported to the reactor areas by rail cars or truck tank cars and distributed by underground piping.
   The excavations reached groundwater at 85 feet deep. The heavily chrome contaminated soil was treated by mixing it with a chemical reagent and cement and disposing it in the landfill. There are a few cleanup activities remaining in the 100-D Reactor Area such as the completion of the stockpiled soil removal campaign in July 2014; the backfill campaign to start in October 2014; and the revegetation in 2016.
   "Not only is our team removing and cleaning up chromium contaminated soil, but we are also protecting the Columbia River while working safely," said WCH Closure Operations Director Rob Cantwell.