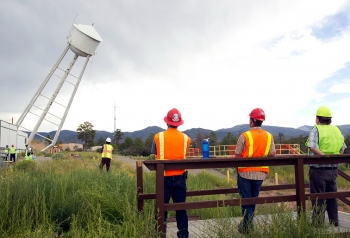 Workers observe the demolition of the West Water Tower at Los Alamos National Laboratory.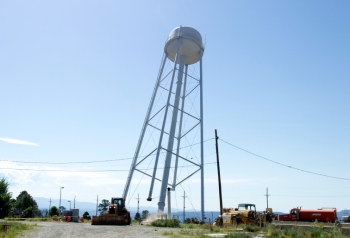 The East Water Tower falls.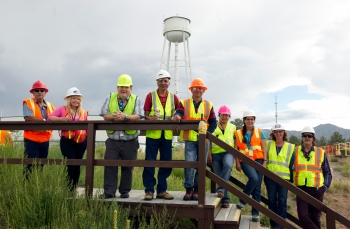 EM's federal team for the demolition project, from left, Fire Coordinator Allan Trujillo, DOE Intern Kathy Walker, DOE Contracting Officer Ken Snyder, DOE EM Headquarters/Deactivation & Decommissioning Lead Dinesh Gupta, DOE Federal Project Director Arturo Duran, DOE Facility Operations Representative Darlene Rodriguez, DOE Deputy Federal Project Director Ramoncita Massey, DOE Safety and Health Lead Cindy Casalina, and DOE Readiness Lead John Fredlund.
LOS ALAMOS, N.M. – After decades dominating the Los Alamos National Laboratory skyline, two water towers were safely demolished by workers in a matter of hours recently, bringing EM's Environmental Projects Office at Los Alamos a step closer to transferring the land for future commercial or industrial use.
   The towers were located in Technical Area 21 (TA-21), an early site of the Manhattan Project work at the laboratory, which is part of DOE's network of national laboratories. It was the location of the world's first plutonium processing facility and where groundbreaking tritium research took place.
   The demolition is a continuation of a large-scale environmental cleanup at TA-21 that began in 2009 when cleanup was funded by the American Reinvestment and Recovery Act. Demolishing the 175-foot and 160-foot towers was one of several projects to remove remaining structures at TA-21.
   "By bringing down these towers, we are making a noticeable difference in the skyline at Los Alamos," Los Alamos Field Office Environmental Programs Assistant Manager Pete Maggiore said. "This is another positive step towards eventual transfer of this property to Los Alamos County."
   The demolition project hired contractor The Lakeworth Group LLC of Los Alamos, a woman-owned small business, which was supported by Envirocon, a demolition contractor that has performed similar work at other EM sites.
   Workers safely brought down the towers using a controlled demolition method landing the towers in safe designated locations. Disposition of the materials left by the demolitions includes scrap-metal recycling in a facility located in Albuquerque, N.M., which provides a financial credit to the project cost and contributes to environmental sustainability goals. The towers were uncontaminated and in a non-posted area.