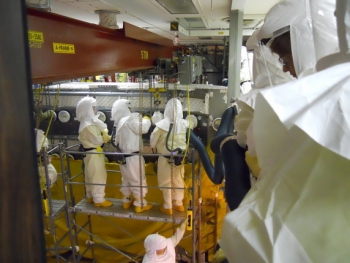 Workers wear air purifying respirators in the Plutonium Finishing Plant.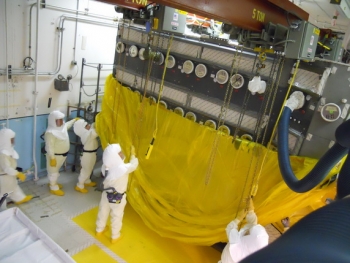 A program developed by employees enhances use of respiratory equipment in the Plutonium Finishing Plant.
RICHLAND, Wash. – Workers supporting the Richland Operations Office at the Hanford site found a way to make their everyday work even safer.
Employees with EM-funded contractor CH2M HILL Plateau Remediation Company (CHPRC) work in the Plutonium Finishing Plant (PFP). They launched their own version of the 4H program: Hood, Hose, Housing and High-Efficiency Particulate Air filters.
Those are the primary components for a powered air purifying respirator (PAPR), respiratory equipment for working in areas that may have airborne radioactivity and high levels of contamination, including chemicals.
PFP was the end of the line for plutonium processing at Hanford; it was the site where workers produced the final plutonium "button" that was to be used in weapons production. Workers are decommissioning the PFP, removing gloveboxes and other radiological and industrial hazards to prepare the plant for demolition by the end of 2016.
The Voluntary Protection Program Participants Association recognized CHPRC and PFP for modifying the respiratory devices for safer use, without changing the form, fit, or function of the equipment. The association supports worksites across the U.S. and focuses on cooperative occupational safety, health and environmental management systems.
The workers at PFP developed the 4H program to enhance use of the equipment in the congested confines of the facilities. The program systemizes the use of peer checks, equipment assembly tips, checklist for working in congested areas, and manufacture-approved equipment modifications.
To learn more about PFP, including photos and videos, click here and here.