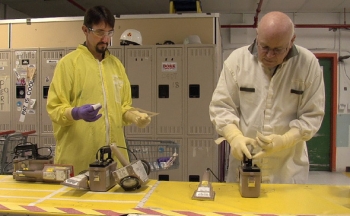 Industrial Hygiene employees at Hanford's Plutonium Finishing Plant streamlined and consolidated their operations, increasing safety and efficiency for employees on the project.
RICHLAND, Wash. – Employees at the Hanford site are working together to find new and innovative ways to stay safe at the Plutonium Finishing Plant, one of the site's most complex decommissioning projects.
Employees with CH2M HILL Plateau Remediation Company, the contractor managing decommissioning and demolition of the plant, streamlined equipment storage and checkout processes used to manage important safety equipment, such as air, gas, noise, and heat stress monitors. The equipment is vital to keeping workers safe as they prepare the plant for completion of demolition by Sept. 30, 2016. The facility was once used to manufacture plutonium for the nation's defense.
"Worker involvement like this is a key component of our health and safety culture at Hanford and the overall DOE Environmental Management complex," said EM Richland Operations Office Deputy Federal Project Director Bryan Foley.
"Employee-driven safety initiatives like this help ensure safe and compliant progress and ensure employees return home in the same condition they arrived at work," CH2M HILL Plutonium Finishing Plant Closure Project Vice President Mike Swartz said.
The team implemented more precise tracking of how often the instruments were used, cycled in and out of service, and calibrated, and what repairs were needed. The changes allowed workers more time to better plan equipment needs and support decommissioning and demolition work teams.
To find out more about the workers' innovation, visit the Hanford Site YouTube channel.