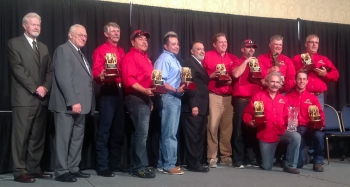 CBFO Manager Joe Franco (sixth from left) with the WIPP Red Team and competition officials at the 2014 National Metal and Nonmetal Mine Rescue Competition.
CARLSBAD, N.M. – EM's Waste Isolation Pilot Plant (WIPP) Mine Rescue Red Team was selected as overall champion from among 41 teams that participated in the National Metal and Nonmetal Mine Rescue Competition in Lexington, Ky. this month.
   The top-spot honor comes just months after this team placed second in the Southwestern Regional Mine Rescue Competition in Carlsbad.
   WIPP has two mine rescue teams — red and blue — that regularly compete and show excellence in the demonstration of their knowledge and skills. In previous national competitions, both WIPP teams have participated. However, the Blue Team stayed in Carlsbad during this latest competition to support potential underground entries related to the WIPP recovery effort.
   "The most important aspect of the competitions is the vital mine rescue training provided for our teams," said Carlsbad Field Office (CBFO) Manager Joe Franco. CBFO has responsibility for WIPP and the National Transuranic (TRU) Program.
   "The teams' performance at these competitions validates proven mine rescue team procedures and processes," said Franco, who was manager for the WIPP mine rescue teams in the late 1990s. "CBFO, associated DOE contractors and laboratories, and the regional communities are all highly supportive of the WIPP mine rescue teams. We're very appreciative of what's involved for this dedicated group to be prepared to provide well-trained emergency response for our workers, facility, community, and the entire industry."
   "The competitions provide fundamental training and help ensure that if we have an emergency in the WIPP underground or other mines, the teams are ready to respond on short notice," said CBFO Mine Operations Project Manager Don Galbraith.
   The team members are employees of Nuclear Waste Partnership (NWP), the WIPP management and operating contractor.
   "We're incredibly pleased to have such high-caliber employees who stand ready to provide emergency response in the event of a mine disaster," said NWP President and Project Manager Bob McQuinn. "The WIPP teams' success is attributed to the hard work, experience, and dedication of the employees."
   The national mine rescue competition is held every two years. Teams are rated according to how well they follow basic Mine Safety and Health Administration (MSHA) rules and regulations in carrying out a rescue under adverse, disaster-like conditions. MSHA evaluates the teams through field, technician team, first aid, and team trainer challenges. The overall champion is determined by the team with the best average score in all events.
   WIPP, the nation's only deep geologic repository for the disposal of TRU waste, is unique as both a nuclear and mining operation. Given this dual nature, WIPP trains employees to meet federal requirements for both mine and nuclear operations. The mine rescue competitions provide venues for teams to test their mine rescue assistance agreements to provide emergency response with two local potash mines in New Mexico and a marble mine near Van Horn, Texas.
   The WIPP teams have benefited from the training and credit the state, regional, and national competitions with honing their skills.
   In February, members were called to enter the WIPP underground to ensure the salt truck fire was completely extinguished and to test for underground air quality. Several years ago, WIPP's teams assisted in the recovery of a man who had fallen into an abandoned mine shaft in central New Mexico.