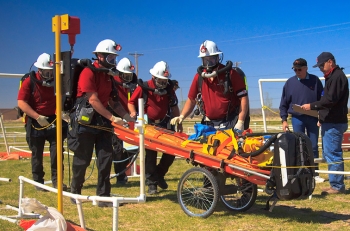 WIPP Mine Rescue Red Team members' actions are evaluated during a simulated mine rescue disaster.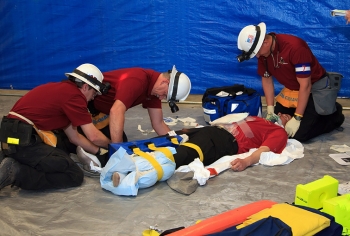 WIPP mine rescue team members simulate the proper first aid response to stabilize injuries.
CARLSBAD, N.M. – EM's Waste Isolation Pilot Plant (WIPP) mine rescue team placed second in the Southwestern Regional Mine Rescue Competition this past spring in Carlsbad, and it took home more than a trophy.
   These teams are a source of great satisfaction for the Carlsbad Field Office (CBFO), which has responsibility for WIPP and the National Transuranic (TRU) Program. Competitions like the one this spring sponsored by the U.S. Mine Safety and Health Administration (MSHA), in which seven New Mexico teams participated, enhance skills in emergency response preparedness.
   "These competitions are a fundamental part of the training for the mine rescue teams," said Carlsbad Field Office Mine Operations Project Manager Don Galbraith. "They are a validation of proven mine rescue team procedures and processes."
   MSHA emphasizes that the competitions strengthen cooperation between federal and state agencies, mining companies, and equipment manufacturers to enhance mine rescue preparedness.
   WIPP has two mine rescue teams — red and blue — that regularly compete and show excellence in the demonstration of their knowledge and skills. The Blue Team could not compete this spring as its team members were on standby while recovery team personnel were performing investigative entries into the WIPP underground following the February radiological event.
   The Red Team took first place in the competition's first aid contest and received second place overall. MSHA evaluates each team's performance through a simulated mine disaster and rescue scenario. The teams are also evaluated on other skills including gas testing and maintaining a complex self-contained breathing apparatus, and in the technician team and team trainer categories.
   Through the years, the WIPP teams have earned recognition for their skills. Three members have been inducted into the National Mine Rescue Hall of Fame.
   "Our mine rescue teams are tops," said CBFO Manager Joe Franco. "Their accomplishments are commendable. Mine safety is essential to our mission. As the manager for the WIPP mine rescue teams from 1997 through 1999, I especially appreciate the teams' skill and dedication to providing extremely well-trained emergency response for our workers, facility, community, and the entire industry."
   The team members — highly trained professionals integral to the WIPP mission — are employees of Nuclear Waste Partnership (NWP), WIPP's management and operating contractor.
   "We are incredibly pleased to have such high-caliber employees who stand ready to provide emergency response in the event of a mine disaster," NWP President and Project Manager Bob McQuinn.
   WIPP, the nation's only deep geologic repository for the disposal of TRU waste, is unique as both a nuclear and mining operation. Given this dual nature, WIPP trains employees to meet federal requirements for both mine and nuclear operations. The state, regional and national mine rescue competitions provide venues for teams to test their skills and increase their capabilities. In addition to providing emergency mine rescue at WIPP, CBFO maintains mine rescue assistance agreements to provide emergency response with two local potash mines in New Mexico and a marble mine near Van Horn, Texas.
   Experience and practice have proven beneficial to the WIPP mine rescue teams. In February, members were called to enter the WIPP underground to ensure the salt truck fire was completely extinguished and to test for underground air quality. Several years ago, WIPP's teams assisted in the recovery of a man who had fallen into an abandoned mine shaft in central New Mexico.
   Regardless of the location, WIPP mine rescue teams are at the ready to assist should the need arise.