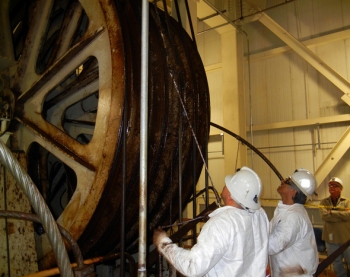 WIPP surface maintenance employees tail a new steel head rope over the hoist drum. The hoist is used to transport TRU waste 2,150 underground for final disposal.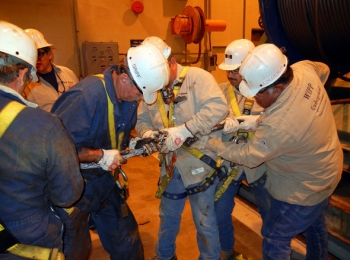 The WIPP shaft crew installs rigging onto a new 2,300-foot-long head rope on the first floor.
CARLSBAD, N.M. – As part of the Waste Isolation Pilot Plant's (WIPP) preventive maintenance program, four of six head ropes that suspend the waste conveyance were safely replaced recently.
The 2,150-foot descent to the underground disposal area at WIPP is a smooth, quiet ride. The waste conveyance, which resembles a large cage, can hold up to 75 people, 45 tons of equipment or a payload of transuranic (TRU) waste on its final journey to disposal.
"The team did a remarkable job," Carlsbad Field Office (CBFO) Manager Joe Franco said. CBFO has responsibility for WIPP and the National TRU Program. "This impressive achievement was completed safely and ahead of schedule."
The steel head ropes attach to the top of the conveyance, wrap around a 12-foot-diameter hoist drum and connect at the other end to a counterweight, consisting of a steel frame with a cast iron weight stack totaling 102,000 pound.
Each head rope is made up of 151 wires that is "a machine in itself," according to Hoist Engineer Norm Siepel, with Nuclear Waste Partnership, LLC, the WIPP management and operating contractor. 
Siepel said the coordination to remove and replace the head ropes is nothing short of amazing.
"We have people working simultaneously on five separate levels from the waste hoist tower on the surface to the waste shaft underground, all communicating by radio," he said.
It takes three to four days for WIPP crews to replace one head rope. In this instance, crews were able to accomplish the work during WIPP's planned maintenance evolution while waste disposal activities were temporarily suspended. The maintenance evolution allows for periodic maintenance activities that do not impact the receipt of shipments and disposal activity.
Three shafts extending to WIPP's underground area serve as points of egress for people who work in the mine. Each week a shaft crew descends on the conveyance work platform to inspect shaft conditions. The counterweight, the conveyance and head frame undergo monthly inspections.