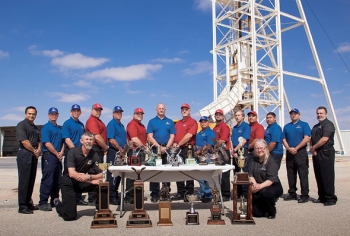 WIPP's mine rescue team members, back row from left, are NWP President and Project Manager Farok Sharif; Heath Fowler; Manny Marquez; Mat Ridgway; Gary Kessler; Curtis Sanders, III; Jim Pierce; Tony Mihelic; Joe Baca; Justin Bailey; Ty Zimmerly; Fabian Carrasco; Chauncey Ortega; Nico Dominguez; and CBFO Manager Joe Franco. In front are Richard West, team trainer; and Ann Strait, of NWP emergency management. Not pictured is Doug Pitzer, a Red Team member.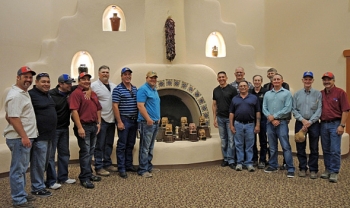 Members of WIPP's mine rescue teams pose by recently won trophies from the 2013 Southwest Regional Mine Rescue Competition. Shown with the team members is CBFO Mine Operations Project Manager Don Galbraith, second from right, who represented CBFO at the competition.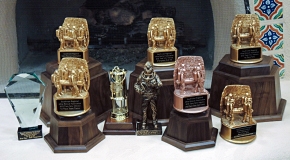 Trophies won by the WIPP mine rescue teams at the 2013 Southwest Regional Mine Rescue Competition in Taos, N.M.
CARLSBAD, N.M. – The Waste Isolation Pilot Plant's (WIPP) two mine rescue teams recently led the field of 13 groups competing in the Southwest Regional Mine Rescue Contest.
The challenge was one of many Mine Safety and Health Administration-sponsored regional and national events in which these professionals compete and train to hone their skills.
"Our two teams did an outstanding job," said EM Carlsbad Field Office (CBFO) Manager Joe Franco. "Mine safety is critical to our mission and I appreciate their skill and dedication to providing extremely well-trained emergency response for our workers, facility, community and entire industry." CBFO has responsibility for WIPP and the National Transuranic (TRU) Program.
The volunteer team members are employees of Nuclear Waste Partnership (NWP), the WIPP management and operating contractor. They work at WIPP, America's only operating deep-geologic repository for the permanent disposal of radioactive waste nearly one-half mile underground.
At the May 2013 competition in Taos, N.M., WIPP's Blue and Red teams took first and second place overall, respectively, and placed first in every category. The Blue Team took first place in the field trial and third place in the first aid contest, while members of the Red Team won the first aid and team technician competitions. The WIPP team trainer placed first in the trainer contest.
The field competition obstacle course simulates conditions rescuers would encounter in an underground disaster, such as gases, fires and mine instability. Teams were evaluated as they moved through the course to locate, treat and move staged victims to the surface. The role of the benchman was to troubleshoot breathing apparatuses and stage fresh air stations — critical to survival and rescue in contaminated air. The competition also included technical and written tests.
The competitions are designed to sharpen skills and test the knowledge of miners who may respond to real mine emergencies. Coal mine disasters in the early 1900s led to the creation of mine-safety railcars, and later, rescue trucks outfitted with first aid equipment for emergency dispatch to mine fires or explosions. The difference between life and death for trapped miners was often the heroic efforts of fellow miners. Today, highly skilled mine rescue teams, such as WIPP's experts, stand ready to render aid in an underground emergency.
The WIPP teams routinely train for effective response should an underground emergency occur at WIPP. The training qualifies them to assist other metal and non-metal mines around the country. CBFO maintains mutual aid agreements with two local potash mines in New Mexico and a marble mine near Van Horn, Texas to provide emergency backup. In years past, WIPP's teams assisted in the recovery of a man who had fallen into an abandoned mine shaft in central New Mexico, conducted mine rescue training in Arizona and helped design and judge mine rescue contests in Mexico.
Through the years, the WIPP teams have earned recognition for their skills. Two WIPP mine rescue team members have been inducted into the National Mine Rescue Hall of Fame and a third team member was recently nominated for significant contributions to mine safety.
Last month, the Red Team competed in the 2013 Southeast Regional Mine Rescue Contest in Maysville, Ky. Earlier this year, they competed in the Nevada Mine Rescue Contest in Winnemucca, Nev., and the Blue Team participated in the Southern Regional Mine Rescue Contest in New Iberia, La. The Blue Team will travel to Rolla, Mo. in September for the Missouri Mine Rescue Contest. From July 30 to Aug. 1, both WIPP teams will take on the nation's best teams at the National Mine Rescue Competition in Reno, Nev.