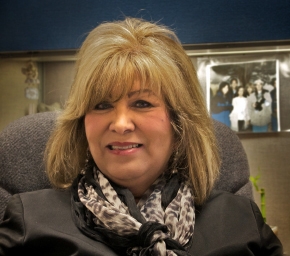 Rose Scott, a governmental affairs specialist with URS Washington TRU Solutions LLC, the DOE Waste Isolation Pilot Plant management and operating contractor, was selected for the National Environmental Justice Advisory Board.
CARLSBAD, N.M. – Organizers say no similar opportunity or conference exists in America. In April, representatives from federal and state agencies, local governments, tribes, communities, business, academia and other groups will gather in Washington, D.C. for the 2012 National Environmental Justice Conference and Training Program.
DOE is a founding partner and sponsor of the event, which was first held in 2007.
Melinda Downing, DOE Environmental Justice Program Manager, said the conference provides federal agencies an opportunity to present collaborative environmental justice efforts at the national level.
"During the conference, communities will have direct access to federal officials and members of Congress," said Downing. "It's the largest and most diverse environmental justice conference in the nation."  
Environmental justice experts will guide conference participants through a variety of topics, such as strategies related to land use, mitigation of environmental hazards and socioeconomics. The conference training program offers professional-level educational credits to federal employees and stakeholders.
Rose Scott, a government affairs specialist with URS Washington TRU Solutions, the management and operating contractor for the DOE Waste Isolation Pilot Plant (WIPP), was recently appointed to the National Environmental Justice Conference Advisory Board. Scott is a former magistrate judge, former president of the New Mexico Democratic Women and current president of the Hobbs Hispano Chamber Foundation in New Mexico. Her Spanish-speaking skills have made her a key liaison at community meetings and asset to the WIPP Joint Information Center, should the need arise for emergency public information.
EM Update talked to Scott about her involvement in environmental justice:
How were you selected to participate on the advisory board?
I was contacted by Lessie Price, another URS employee who is involved in environmental justice efforts, and is a member of the environmental justice conference committee. She's familiar with the work I've done here in New Mexico and asked if I might be interested in participating on the Advisory Board. My answer was "yes."
What has been your interest in environmental justice?
I guess you could call me a community activist. As a former judge, I learned to listen and read between the lines. Sometimes what is said is not the issue at all. The same is true at public meetings. People often don't speak what's on their minds for fear of being seen as uninformed or argumentative. You have to engage them to get to the heart of the concern.
Why is environmental justice important to WIPP?
Before WIPP opened in 1999, our public affairs group conducted public meetings and educational outreach statewide on behalf of DOE to explain why WIPP was in the nation's interest and how the proposed facility would operate. Because WIPP is the first facility of its kind, and significant Hispanic populations live in the communities surrounding WIPP, it was important to me that Spanish-speaking residents have equal opportunities to express their views and have their concerns addressed.
At the outset, EM pledged that WIPP operations would be protective of the public and the environment. In 13 years of operation, WIPP has been a model in transparency. We do our best to keep stakeholders informed about WIPP initiatives and let them know how they can become involved in the public process. 
What have you learned from your experience?
I've learned that regardless of cultural background, most everyone wants the same things: a safe, clean environment to live and work in. The more informed citizens are, the better able they are to make decisions about their own well being. Consequently, the ideas and suggestions of citizens allow federal agencies to make better decisions and policies.
Why should people around the EM complex care about environmental justice?
EM sites typically manage hazardous materials. Members of the public have a right to know how the materials are managed and what impact, if any, it may have on them. They must have accurate information and a voice in decision-making processes. It has to be a collaborative effort to be successful.
The 2012 National Environmental Justice Conference and Training Program conference will be held April 11-13. For more information, contact Downing at melinda.downing@hq.doe.gov or the conference coordinator, Lloyd Moore, at email@thenejc.org or (202) 827-2224.