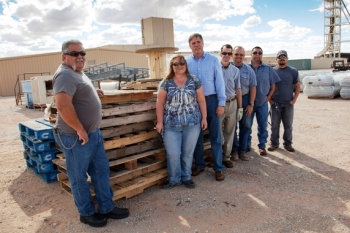 WIPP environmental and operations personnel gather next to pallets that will be provided to the local community as part of WIPP's wood waste diversion program.
CARLSBAD, N.M. – EM's Waste Isolation Pilot Plant (WIPP) almost doubled its solid waste reduction rate from 15.5 percent in fiscal year 2012 to 33 percent in fiscal year 2013 through programs that diverted WIPP's wood waste from the municipal landfill by reusing, repurposing or recycling.
"WIPP is a leader in sustainability and environmental achievements in New Mexico and the Department of Energy," said Carlsbad Field Office (CBFO) Manager Joe Franco. "The WIPP team is committed to innovation and using our resources wisely." CBFO has responsibility for WIPP and the National Transuranic (TRU) Program.
Wood waste at WIPP comes from spools, crates, and pallets, which are the primary contributor.
"We identified the most practical ways to reduce solid waste from the WIPP site and were able to make a significant impact by diverting wood waste from the landfill," said  Sustainability Coordinator Lynn Johnson, who works in Nuclear Waste Partnership's (NWP) Office of Site Environmental Compliance. NWP is the WIPP management and operating contractor.
WIPP personnel identified a plan to donate the used pallets to a local training center for its search-and-rescue dog training program. "They were very pleased to have the pallets for their training and we were proud to assist in this important program," said Johnson.   
Pallets are also sent to a local recycling facility where they are used to help load and transport materials for shipment. Approximately 460 wood pallets and four wood spools weighing nearly 17,500 pounds were donated.
A third venue for reuse involves the City of Carlsbad taking wood waste segregated at the landfill, chipping it and using it in local parks. This program diverted an estimated 8,700 pounds of wood waste from the landfill.
The wood waste diversion efforts are part of WIPP's overall goal for environmental improvements through the reduction of waste and pollution.
WIPP has been regularly recognized for its sustainability and environmental initiatives. In August, WIPP was selected as an honoree in the category of sustainable workplace at the New Mexico Sustainable Business Summit held in Albuquerque. WIPP received the award based on improvements in the Environmental Monitoring and Hydrology Field Laboratory. The laboratory found ways to improve efficiencies and reduce the overall amount of hazardous waste generated in the groundwater monitoring program. The improvements resulted in no hazardous waste being generated in 2012.
DOE and NWP, co-permittees for the WIPP Hazardous Waste Facility Permit, received approval from the New Mexico Environment Department (NMED) for their permit modification request to reduce or eliminate the need to perform chemical sampling. NMED's approval of the modification eliminated the need to use chemicals the majority of time when analyzing groundwater samples, which are approved by the U.S. Environmental Protection Agency.
Also this year, NMED recognized WIPP as a Gold Level leader in the Green Zia Environmental Leadership Program (GZELP), its highest recognition for environmental excellence based on continuing achievements, including hazardous waste reduction, energy conservation and pollution prevention. The program previously recognized WIPP as a Silver Level leader in 2012 and as a Bronze Level leader in 2011.
In October 2012, DOE recognized four initiatives at WIPP and more than 20 people with DOE Sustainability Awards for improvements in energy, water and fleet efficiency while reducing pollution and waste across the complex. The 20 people recognized included current and former CBFO federal employees, WIPP contractors and subcontractors.
"Our work groups and people are very deserving of the honors they've received. People are continuously finding creative ways to enhance our initiatives," Franco said.
"The wood diversion efforts at WIPP are commendable," CBFO National Environmental Policy Act Compliance Officer and Environmental Management System Coordinator Susan McCauslin, an environmental protection specialist, said. "Combined with our other waste reduction efforts, we excel in actively pursuing opportunities in pollution prevention and furthering our environmental sustainability."
WIPP, located 26 miles outside of Carlsbad, is a DOE facility designed to safely isolate defense-related TRU waste from people and the environment. Waste temporarily stored at sites around the country is shipped to WIPP and permanently disposed in rooms mined out of an ancient salt formation 2,150 feet below the surface. WIPP, which began waste disposal operations in 1999, has cleaned 22 sites of legacy TRU waste.