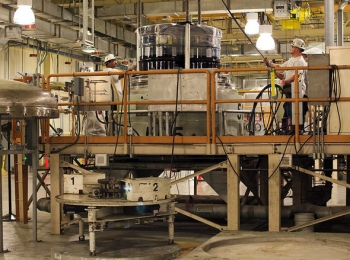 WIPP employees guide a TRU waste payload as it is lifted from a shipping container by an overhead crane. The TRU dock platform allows workers to access the 10-foot-high TRUPACT-II shipping container.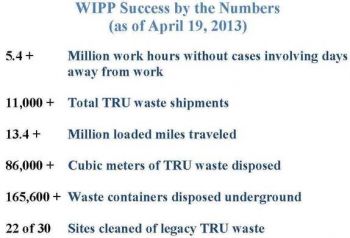 WIPP Success by the Numbers (as of April 19, 2013)
CARLSBAD, N.M. – The Waste Isolation Pilot Plant (WIPP) recently marked its 14th year as America's only operational deep geologic repository for the disposal of radioactive waste.
"WIPP's 14th anniversary isn't just about passing another day on the calendar," Carlsbad Field Office (CBFO) Manager Joe Franco said. "It's about looking back at everything we've done, not only in the last 14 years, but going back much further." CBFO has responsibility for WIPP and the National Transuranic (TRU) Program.
Many others remember that first shipment of TRU waste coming through WIPP's gates in 1999 when floodlights illuminated a jubilant crowd of employees, elected officials and newscasters gathered to witness history: the arrival of a lone shipment from Los Alamos National Laboratory. The 340-mile journey from waste generator site to final disposal had taken nearly 25 years.
EM Senior Advisor Dave Huizenga congratulated Carlsbad and WIPP senior leadership and federal and contractor employees for their tremendous contribution to the cleanup of defense-related TRU waste from around the nation.
"EM is deeply committed to ongoing cleanup, and WIPP's anniversary is a reminder that the work we do has a significant, positive impact on citizens and the environment," Huizenga said.
Other nations studied WIPP's successes. WIPP created the Central Characterization Project, with its mobile-loading experts and equipment, to expedite waste characterization at generator sites across the nation. Shipments increased from one to two per week in 1999 to a high of 32 weekly shipments in eight years.
WIPP was originally designed to handle 17 shipments per week. In 2003, workers installed two additional TRU docks in the Waste Handling Building to double TRU waste receipt and handling capabilities. Process improvements became the norm as WIPP sought state approval for more than 100 changes to its operating permit to make complex waste characterization methods safer for workers and more efficient.
Eleven thousand shipments and 14 years later, WIPP has assisted in the cleanup of 22 TRU waste sites nationwide. The "pilot" plant today is an international model for the safe, environmentally sound disposal of radioactive materials.
"All who have ever worked at WIPP have every reason to be pleased. Together, we have served the DOE complex well," Franco said. "I'm proud to work with the entire team as we continue to build public confidence in our service to the nation for many years to come."