Richland, WA - In direct support of Hanford cleanup and the American Reinvestment and Recovery Act (ARRA) accelerated cleanup initiatives, the U.S. Department of Energy (DOE) Richland Operations Office (RL) is teaming with the Site services contractor, Mission Support Alliance, LLC (MSA), CH2M HILL Plateau Remediation Company and Washington River Protection Services Company to implement a WiMAX-based communications infrastructure at Hanford to augment the existing fiber optic and Wi‑Fi-based systems.
Wi-Fi and WiMAX are both considered last mile technologies that carry signals from telecommunications backbones (in this case hubs or access points) along the comparatively short distance to the users' mobile device(s). WiMAX, however, provides much greater wireless range and connection quality than does Wi-Fi.  
The WiMAX system deployed at Hanford provides a large-capacity, secure, high-performance wireless network to serve as the transport vehicle to move information (data, voice, and video) from one place to another across the 586‑square-mile site. Compared to Hanford's current systems, the WiMAX system will support a minimum ten-fold increase in users per access point, from approximately 20 to 200 or more. It also increases distances that wireless signals can travel by more than 50 times.
The WiMAX implementation is a component of an overall Site strategy to enhance field automation and increase workforce productivity by providing workers in remote locations with access to the applications, data, and services required to perform all aspects of their work. For example, work package instructions, procedures, and safety information is available electronically in the field to supervisors and crafts people executing work. Work completion and reporting can now be performed in remote field locations, precluding the need to drive to a central office to perform the same tasks.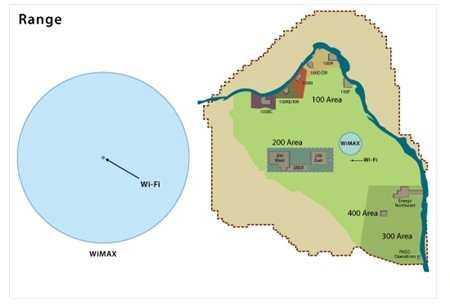 "With the WiMAX implementation, the utilization of wireless technologies and applications to streamline processes at Hanford increases exponentially and is in direct support of Green IT initiatives and cost savings," says Frank Armijo, MSA Director of Information Management.
Already deployed across approximately 25% of the Site, the WiMAX solution has been installed in five Project Managers' vehicles, allowing more "hands-on" time in the field. The WiMAX infrastructure has eliminated the requirement to install fiber optic cabling in remote job sites, saving DOE hundreds of thousands of dollars and countless man hours, and preventing the creation of new waste streams disturbance of sensitive ground. The technology is also being used for monitoring, management, and control of systems in remote radio repeater facilities at Hanford.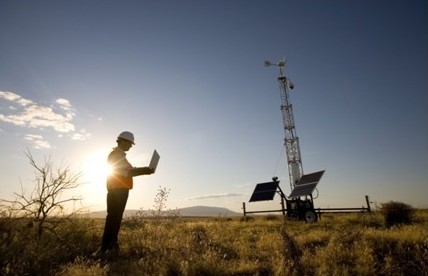 Additional wireless innovations implemented at Hanford include the Wireless Wind and Solar Powered Platforms (WWASPP). WWASPPs, a Green technology designed and deployed at Hanford, combines alternative energy sources with wireless capabilities to enhance safety and performance in remote monitoring and work execution. WWASPPs have been deployed in Hanford's tank farms and other radiological and/or hazardous areas, keeping exposure ALARA and reducing surveillance costs.
Future activities made possible by the WiMAX implementation include remote monitoring of groundwater wells, cocooned facilities, electrical utilities, or other sites slated for long-term surveillance and maintenance. With the WiMAX platform in place, data can be continually transmitted, monitored, and recorded without having to engineer in-ground solutions through contaminated areas.
Hanford Fire, Patrol, and Emergency Response personnel will benefit as the technology is leveraged to provide mobility based solutions in the field to improve monitoring, communications, and event response. When fully deployed, the WiMAX system will transport voice, video, and data between an event scene, remote incident command posts, and a central command or response center. Laptop computers in Hanford Patrol or Fire Department vehicles will display and transmit audio and video from an event scene or while in transit, allowing personnel to assess conditions and make decisions rapidly and effectively.
"The implementation of the WiMAX infrastructure will provide a tremendous value to the DOE's Environmental Management Program in support of key cleanup projects and ARRA projects that needed quick command centers and remote field worker automation. Also the DOE Legacy Management Program will benefit with more Hanford facilities turned over for surveillance and maintenance faster than anticipated," says Armijo. "We are excited to be a part of this transformation."