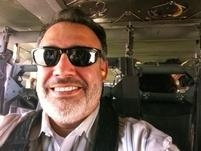 "As a veteran and a former member of the U.S. Navy, I understand the nation's need for — and the important support provided by — the Guard and Reserve," -- CBFO Manager Joe Franco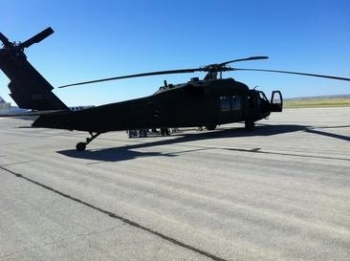 Franco flew aboard the Blackhawk, shown, based at the Army Aviation Support Facility in Santa Fe as part of a N.M. ESGR orientation initiative. The national ESGR seeks to develop and promote a culture in which all American employers support and value the military service of their employees.
CARLSBAD, N.M. – DOE Carlsbad Field Office (CBFO) Manager Joe Franco, right, took to the skies in a New Mexico National Guard UH-60 Blackhawk helicopter flight in southeast New Mexico recently. An organization known as the New Mexico Employer Support of the Guard and Reserve (N.M. ESGR), which promotes employer support for the Guard and Reserve service, provided Franco the opportunity as part of its outreach with area employers. Its goal is to familiarize them with the contributions of the Guard and Reserve forces in New Mexico. Franco also attended a N.M. ESGR recognition event for Eddy County employers — CBFO, which has responsibility for the Waste Isolation Pilot Plant (WIPP) and the National Transuranic (TRU) Program, is one of them — and renewed a certificate of support for CBFO. In addition to other New Mexico employers, Nuclear Waste Partnership LLC, the WIPP management and operating contractor, also signed a certificate of support.