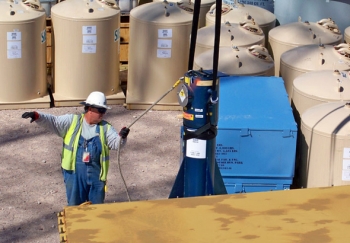 A worker at NNSS handles large, high-powered batteries called radioisotope thermoelectric generators (RTGs), which are discussed in the recent article on the NNSS in RadWaste Solutions magazine. Like most low-level waste, RTGs disposed of at the NNSS were handled without any special equipment or clothing because of the relatively low dose rate levels.
LAS VEGAS – The Nevada National Security Site's (NNSS) successful low-level waste disposal program was the subject of a recent spread in RadWaste Solutions magazine.
The January-April 2013 edition includes maps, full-color photos and details on the site's 62-year history. The article features information on the attributes of NNSS low-level and mixed low-level waste disposal facilities, specifically highlighting the role these facilities play in serving the cleanup goals of the complex.
Nevada Field Office representatives discuss how strict waste acceptance criteria and disposal protocols are the backbone of the program. 
Click here to access the entire article.