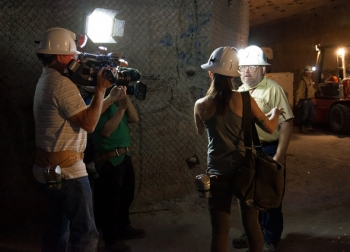 Lights, Camera, Action! In May 2013, an INDIGO FILMS production crew prepares for an interview with EM's Carlsbad Field Office Chief Scientist Roger Nelson. INDIGO FILMS is producing a segment on WIPP for a program that highlights interesting, non-public locations that should air on the Travel Channel this fall.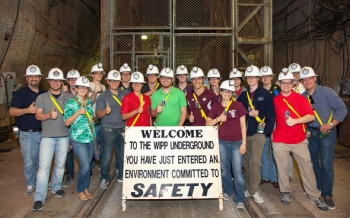 A group of Texas A&M University nuclear engineering students shows enthusiasm for WIPP's underground operations in May 2013.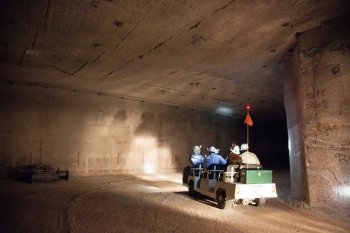 In April 2013, U.S. Sen. Martin Heinrich (D-N.M.) and his staff visit WIPP to learn about transuranic waste handling and disposal operations.
CARLSBAD, N.M. – If a picture is worth a thousand words, seeing EM's Waste Isolation Pilot Plant (WIPP) near Carlsbad, N.M., is invaluable to understanding the service it provides to the nation.
The hundreds of U.S. and international visitors from diverse backgrounds that WIPP hosts each year have vested interests in the project for a variety of reasons. Last year, more than 700 visitors toured WIPP to learn about EM's mission to clean up U.S. defense-related transuranic (TRU) waste. Approximately 20 percent of the visitors represented foreign governments pursuing repository development and environmental management. 
A roster of WIPP visitors in May 2013 shows the breadth of interest in WIPP. Tour participants included attendees from a high-level waste management conference held in Albuquerque, N.M., news media and filmmakers, regulators, nuclear engineering students and special interest groups. 
Although ongoing disposal operations necessitate that tours be limited, EM's Carlsbad Field Office (CBFO) recognizes the importance of the exchange of information to the mission of WIPP and its project stakeholders. CBFO has responsibility for WIPP and the National TRU Program.
CBFO Senior International Programs & Policy Advisor Dr. Abe Van Luik said the WIPP experience is unique.
"Sharing what WIPP has done to operate safely for 14 years with our international visitors helps carry out U.S. policy to assure nuclear safety around the world," he said.
Why do they come? WIPP is a seamless operation involving nuclear materials handling. Radiological control technicians who work in the underground qualify for mining safety under the Mine Safety and Health Administration standards. While WIPP's regulatory framework, baseline monitoring programs, community relations and record of safety are noteworthy, most visitors are especially interested in the deep geologic repository and the ancient salt formation in which it's located.
At a depth of 2,150 feet, the repository offers ideal conditions for isolation of long-lived radioactive materials. It also provides an excellent location for scientific research that requires low levels of background radiation.
"It's ironic," said CBFO Chief Scientist Roger Nelson. "To make exquisitely sensitive measurements for particle physics experiments, scientists need the lowest natural levels of radioactivity. So they come to WIPP, which is isolating mega-curies of nuclear waste. It just shows how protective disposal in deep geologic salt can be."
WIPP hosts the following scientific experiments in the north end of the mine:
Isolated from terrestrial and comic radiation, the Low Background Radiation Experiment tests the effects of less-than-background levels of exposure to basic life forms to determine if the absence of exposure is a benefit or detriment or has no effect on organisms; and
The Dark Matter Time Projection Chamber, a particle physics experiment, seeks to find weakly interacting massive particles, or WIMPs, which pass through most matter.
For more information on the experiments, click here.
While visitors often remark about the facility's remote location in the desert of southeast New Mexico, it's not until they step off the hoist into the underground repository that permanent, safe isolation becomes clear. One visitor involved with the Republic of Korea's repository development program, which may use a clay disposal medium, emphasized what so many have said about WIPP: "This salt formation is truly a national treasure."
WIPP is America's only operating deep-geologic repository for the disposal of defense-related TRU waste and the nation's first repository designed for the permanent disposal of long-lived radioactive waste resulting from U.S. nuclear defense programs.