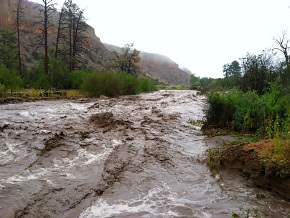 Unusually heavy rain in early September caused flash flooding in canyons surrounding Los Alamos.
LOS ALAMOS, N.M. – Los Alamos National Laboratory's biggest environmental cleanup accomplishments during 2013 centered around waste and water.
The laboratory's 3706 TRU Waste Campaign, an accelerated shipping effort spurred by a massive wildfire in 2011, completed another record-breaking year in 2013, removing a cumulative 1,825 cubic meters of transuranic (TRU) waste and exceeding every previous shipping record.
"The 3706 TRU Campaign is about reducing risk to the people and environment of northern New Mexico as well as about removing waste from Los Alamos," said Pete Maggiore, manager of EM's Los Alamos Field Office Environmental Projects Office. "A lot of people contributed their talent and expertise to make this project successful, so it's a great example of a successful collaborative effort as well as a successful shipping effort."
In addition to an avalanche of waste shipping, the laboratory's water experts dealt with a 1,000-year rain event in September that resulted in flash floods that damaged water monitoring stations, roads and other environmental structures.
"It's unusual to see a rain event like this in the high desert, and the damage from the floods made it difficult for our crews to assess the damage in what is often rugged terrain," said Jeff Mousseau, associate director of the laboratory's Environmental Programs. "Assessing the damage and recovering from a rare event like this flood was a major accomplishment for our field crews."
In addition to record waste shipments and recovery from flash flooding, Los Alamos also completed characterization pump testing on a chromium plume in the regional aquifer, retrieving data that will help scientists assess the characteristics of the plume and determine the best way to remove the chromium from the aquifer.
"Chromium was used as a rust inhibitor at the laboratory in the past as it was throughout the country, and it seeped in to the regional aquifer over a long period of time," said David McInroy, director of the Environmental Programs Corrective Actions Program at Los Alamos. "The data we collected this year will be an invaluable tool for determining a path forward."