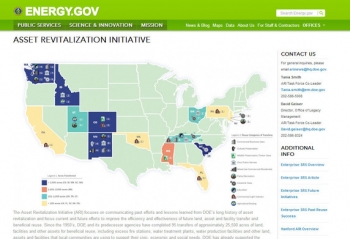 Screenshot of Asset Revitalization Initiative (ARI) website.
WASHINGTON, D.C. – Today, the U.S. Department of Energy (DOE) launched a website for the Asset Revitalization Initiative (ARI), a DOE-wide effort to advance the beneficial reuse of its unique and diverse mix of assets, including land, facilities, infrastructure, equipment, technologies, natural resources and a highly skilled workforce.
ARI promotes a more efficient business environment to encourage collaboration between public and private resources. ARI efforts will maximize benefits to achieve energy and environmental goals as well as to stimulate and diversify regional economies. ARI helps communities to transition existing assets to future beneficial uses thus enhancing their local and regional communities and economies. 
The key to success of ARI is effective communication and cross-functional coordination that includes both field and headquarters components. The ARI Task Force is organized into five teams led by a steering committee which identifies, prioritizes, and resolves issues for effective site revitalization, addresses crosscutting issues, and incorporates ARI's mission into programmatic business practices. The five teams include diversification, real property and assets, modernization, energy, and communications. 
The website will be easily accessible to users. The Office of Legacy Management, Environmental Management, Science, and the National Nuclear Security Administration will have links to the ARI website.  Please take a moment to visit http://energy.gov/ari. DOE welcomes your feedback.