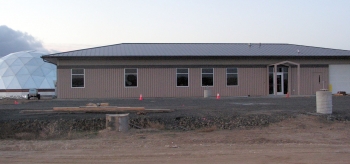 The Confederated Tribes of the Umatilla Indian Reservation's field station, located in Mission, Ore., will be home to one-of-a-kind research and development for revegetation efforts.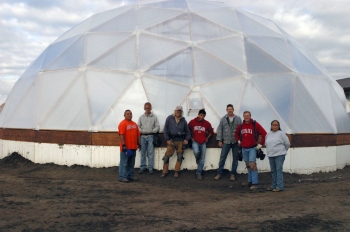 Tribal construction workers stand in front of the hexagonal greenhouse dome structure that will house the seeds for revegetation efforts.
MISSION, Ore. – Native plants are often difficult to reproduce. One Tribe will take on this challenge by conducting one-of-a-kind research and development for revegetation efforts at a tribal field station and two greenhouses. The facilities were made possible through EM funding.
The DOE Richland Operations Office (RL) manages the 586-square-mile Hanford site, home to hundreds of native plants within locally-adapted ecosystems. EM's Cold War cleanup and subsequent restoration sometimes disturb habitat, and natural forces such as wildfires can impact native plant growth. When cleanup projects near completion, restoration efforts often include backfilling, contouring, and revegetating the cleanup area with native plants. For example, American Recovery and Reinvestment Act workers last year revegetated several former waste sites, including a 140-acre portion of the BC Control Area. That area was associated with a waste disposal system used in Hanford operations.
In June 2011, the Confederated Tribes of the Umatilla Indian Reservation broke ground on the station and greenhouses for researching and reproducing native plants for use in revegetating Hanford. The groundbreaking of the station in the Nixyaawii tribal governance campus in Mission, Ore. marked an eight-year effort to find an appropriate location for the facility.
"There is no similar facility that focuses on growing tribal plants to restore a contaminated site," said Stuart Harris, director of the Department of Science and Engineering for the Tribe. "We thank our DOE partners for their support of the project and look forward to using our tribal expertise for the restoration efforts at Hanford and getting tribal members interested in science and engineering careers."
With more than 20 years experience working with native plants at Hanford, the Tribe seized the opportunity to provide a valuable and unique service. The Department of Science and Engineering includes two specialists, Dr. Rico Cruz, Manager of the Biological Services and Lab Program and Dr. Steven Link,  an expert on botany, who anchor the native plant research and development program for the Tribe.
"Cleanup is happening at a rapid pace and often we need to revegetate an area that's been cleaned up," Richland Operations Office Manager Matt McCormick said. "Our preference is to use native seeds indigenous to the area and that's the recommendation after consulting with affected tribes. Now a Tribe has decided to provide seeds and partner with us. It's a win-win."
Tribal elected leaders also recognize the value of the partnership. The Tribe's Board of Trustees gave its support by providing tribal lands for the facility, which can serve the community and youth as a unique educational center where western science partners with tribal culture. The trustees are also contributing many in-kind infrastructure services such as road construction and installation of cable and telephone lines. 
"We currently provide (Hanford Site) contractors and the U.S. Fish and Wildlife Service with native plant seeds and seedlings for areas of Hanford that have abundant native growth and help with the planting and monitoring. But having a place to conduct the research and grow plants increase our abilities greatly," Cruz said. 
A grand opening ceremony for the field station and greenhouses is expected in February 2