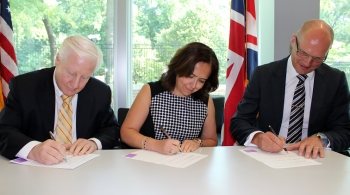 From left to right, DOE Office of Nuclear Energy Deputy Assistant Secretary for Fuel Cycle Technologies John Herczeg, EM Associate Principal Deputy Assistant Secretary Monica Regalbuto, and UK National Nuclear Laboratory Managing Director Paul Howarth sign a Statement of Intent amendment at the British Embassy in Washington, D.C.
WASHINGTON, D.C. – The United Kingdom's National Nuclear Laboratory (NNL) and the Nuclear Decommissioning Authority (NDA) met with senior members of EM and DOE's Office of Nuclear Energy (NE) recently to amend a landmark Statement of Intent to include the NNL in collaborations on radioactive waste and nuclear materials cleanup and management.
   The NDA was created in 2005 to ensure cleanup of the UK's civil nuclear legacy, and is responsible for 17 former nuclear industry sites in Great Britain, many of which were built in the 1940s and 1950s. In 2007, EM and NDA signed the Statement of Intent to exchange information on the management of radioactive waste and nuclear materials. In 2012, NE signed the statement.
   NNL specializes in developing and applying techniques to decommission nuclear facilities, including waste management, measurement and analysis, and immobilization technology. Its work also includes spent fuel disposition and plant integrity, nuclear security, safety management and engineering services, and advanced modeling and simulation.
   "As a premier nuclear services technology provider, NNL became a government owned and operated entity in 2013," EM Associate Principal Deputy Assistant Secretary Monica Regalbuto said. "It makes sense to include the organization in the joint Statement of Intent."
   Regalbuto, NE's Fuel Cycle Technologies Deputy Assistant Secretary John Herczeg, and NNL Managing Director Paul Howarth signed the amendment at the British Embassy earlier this month.
   "NNL is delighted to be joining DOE and NDA in this Statement of Intent. International collaboration is essential to delivering value for all stakeholders," said Howarth.
   NDA's Strategy and Technology Director Adrian Simper signed the document the following week in the UK.
   DOE and UK technical experts also met to review EM's draft Tank Waste Technology Development Plan and discuss technology improvements, alternative processing options, tank management and closure options, and future areas for collaboration. The UK experts were given the draft plan in July 2014 and provided feedback at the meetings with DOE. Their feedback included the importance of highlighting the benefits from past technology development efforts and the need to prioritize technical challenges in a constrained funding environment.
   Given the use of over 150 pulse jet mixing systems over a period of about 50 years, the British also shared perspectives and operating experience on the design and widespread use of pulse jet mixers at their various waste recovery and treatment facilities.
   Leadership from the organizations regrouped for the 12th Standing Committee meeting, which included NNL for the first time. The leaders discussed research and development collaborations and shared best practices.
   "We're very glad to work with NNL, EM and NE investigating areas of mutual interest," said Simper. "This will be to the benefit of all of our programs."