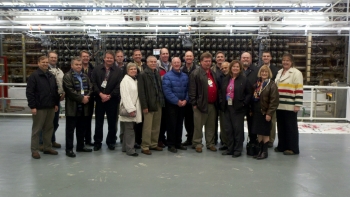 Members of the project peer review team for the River Corridor Closure Project at the Hanford site gather for a photo while on a tour of Hanford's B Reactor National Historic Landmark in February.
WASHINGTON, D.C. – EM revamped and expanded peer reviews for its contracts and projects in the past year with a goal of improving performance and delivering results in the world's largest nuclear cleanup on time and within cost.
The expansive changes to the contract peer reviews allow EM to conduct focused, in-depth assessments of individual contracts and generate detailed feedback for improvements. In the past, a review covered one EM site, and all contracts at that site were assessed in that review.
EM Office of Contract Assistance Director Reggie James, who revised the contract peer review process, said the review team performs independent validations of the contracts to ensure they meet federal acquisition requirements.
"Our goal is to ensure our staff is doing all it can to keep contractors focused and in the direction of completing their jobs in a timely manner," he said.
EM's contracts are funded by more than 90 percent of EM's annual budget, which for fiscal year 2012 totaled about $5.7 billion. EM cleanup projects are accomplished through more than 40 prime contracts with a total value of more than $90 billion and annual expenditures of nearly $5 billion. Awards are generally made to teams of individual companies that in turn procure equipment and services from numerous subcontractors.
A contract peer review takes a week to complete, and reviews are held six to eight weeks apart. The review team is made up of employees of EM's Office of Acquisition and Project Management.
The first contract reviewed under the new process was Bechtel National's Waste Treatment Plant (WTP) contract at the Office of River Protection (ORP) at the Hanford site in Washington state in late May 2012. James said ORP employees and their contractor counterparts are working to save taxpayer money and keep the contract aligned with the projects and activities performed by Bechtel National. He also said the workplace for the WTP employees serves as a good model for other offices because the employees are together in one location where they can make immediate changes to contracts in real time and prevent disruptions to the work flow.
EM Expands Requirements for Project Peer Reviews
EM has also expanded the use of project peer reviews that analyze capital asset projects.
Changes to the project peer review process came after two events: Energy Secretary Steven Chu chartered a review of EM project management in 2010 and DOE issued a new order in 2011 requiring annual peer reviews of all DOE capital asset projects of $100 million or more.
After that order was issued, EM decided to conduct project peer reviews twice a year for all capital asset projects valued at $10 million or more to assess whether the projects meet their baselines within cost and schedule. EM management also signed an annual performance agreement that includes the goal of completing 35 project peer reviews every year.
In the past, EM conducted annual construction project reviews of its largest capital asset projects, such as the Hanford Waste Treatment Plant and Savannah River Site's Salt Waste Processing Facility.
The project peer review teams include EM headquarters and field site employees, U.S. Army Corps of Engineers representatives, contracted, independent subject-matter experts and employees from other DOE offices, such as the Office of Science. EM's project peer review process is modeled after Office of Science's well-respected peer review process.
The project peer reviews generate lessons learned and recommendations for the EM complex. For example, lessons learned developed from the reviews offer strategies to achieve staffing efficiencies and discuss the importance of contract and project baseline alignment.
"These project peer reviews are a great opportunity for EM to use a proven, successful model from the Office of Science to review projects and share lessons learned between the sites," said EM's Project Assessment Office Project Planning and Execution Team Lead Rodney Lehman.