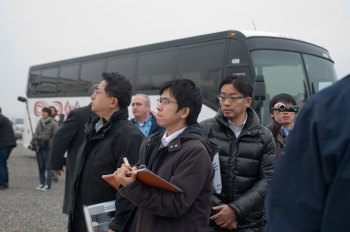 Tokyo Electric Power Company officials tour the Hanford Site to learn about cleanup technologies that could be used at Fukushima.
On opposite sides of the Pacific Ocean, similar work to clean up radioactive contamination is planned to be carried out during the next 40 years.
Thursday, officials from the Tokyo Electric Power Co., the utility that operated the Fukushima, Japan, nuclear reactors, toured Hanford to see how work is being done there to clean up contamination from the past production of plutonium for the nation's nuclear weapons program.