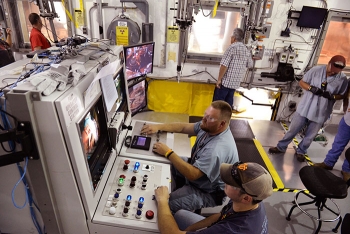 Workers inspect waste at the Transuranic Waste Processing Center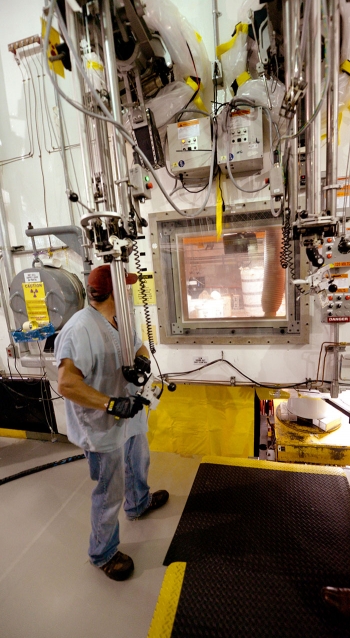 A worker at the Transuranic Waste Processing Center sorts and processes remote-handled transuranic waste.
OAK RIDGE, Tenn. – EM's Transuranic Waste Processing Center recorded an outstanding year by exceeding all of its goals as workers continued to process and prepare Oak Ridge's inventory of transuranic waste for offsite disposal.
   Transuranic waste is one of several types of waste handled by the Oak Ridge Office of Environmental Management (OREM). This particular waste form contains man-made elements heavier than uranium, and it originates from years of defense-related research. 
   In October, the facility completed its first contract year under North Wind Solutions, a small business. Employees surpassed processing milestones for contact-handled (containing lower radioactivity) and remote-handled (containing higher radioactivity) transuranic waste, achieving 117.5 percent of their contact-handled goal and 110.4 percent of their remote-handled goal.
   North Wind's $123.9 million contract funds more than 200 local jobs.
   OREM and North Wind established these goals, which contribute to OREM meeting milestones with the State of Tennessee. 
   "We are very pleased with the rate of progress North Wind achieved in their first year," OREM Acting Manager Jay Mullis said. "This moves us closer to meeting our commitments to the State of Tennessee, and we are making great strides to have our waste ready for disposal when the Waste Isolation Pilot Plant resumes normal operations." 
   OREM has overseen repackaging and processing of 95 percent of the site's inventory of contact-handled waste and 83 percent of its remote-handled waste.
   "Exceeding these goals was truly a team effort that involved cooperation with DOE and other contractors for waste characterization and the delivery of waste for processing," said John Bukowski, North Wind president. "We're proud of these accomplishments to date, and we look forward to working with DOE as together we target future achievements."
   Constructed in 2003, the center is equipped to handle various types and classifications of waste, including liquid and solid waste streams.