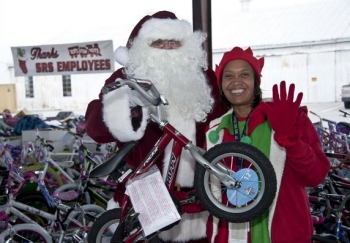 An elf from DOE's Savannah River Site poses with Santa Claus, who holds a bike, one of the more than 14,200 toys federal employees and contractors donated to the U.S. Marine Toys for Tots Program. Mounds of bikes and other donated toys for the program can be seen in the background.
This year's campaign marks one of the largest toy contributions to date at Savannah River Site, an effort requiring several large trucks and numerous volunteers
AIKEN, S.C. - Santa Claus and his elves are getting a lot of help from DOE's Savannah River Site (SRS) this year. Federal employees and contractors donated more than 14,200 toys to support the U.S. Marine Reserves Toys for Tots campaign.
Shiny new bikes, games and dolls are some of the fun and wonderful things local girls and boys will receive through the program. SRS has actively participated in the toy drive for more than two decades, donating more than 242,200 gifts to area children. The donations will be divided between Aiken, South Carolina and Augusta, Georgia.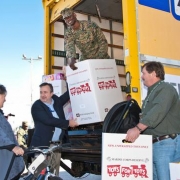 The annual toy drive is sponsored by SRS construction employees, and other supporters include the Department of Energy-Savannah River; National Nuclear Security Administration-Savannah River; Savannah River Remediation; URS Site Testing Contracts; WSI Savannah River Site Team; Parsons; Augusta Building and Construction Trade Council; Baker Concrete; and Savannah River Nuclear Solutions, LLC.
In addition to the Toys for Tots campaign, SRS employees and contractors also sponsor children through the Salvation Army's Angel Tree program. Sponsors at the site have helped 170 local children through clothing, accessory and toy donations. SRS employees gave more than 2,040 clothing and accessory items to Angel Tree recipients.
Toys for Tots began in 1947, when Major Bill Hendricks, USMCR, and a group of Marine Reservists in Los Angeles, collected and distributed 5,000 toys to needy children. That pilot project was so successful that the Marine Corps adopted Toys for Tots in 1948 and expanded it into a nationwide campaign.