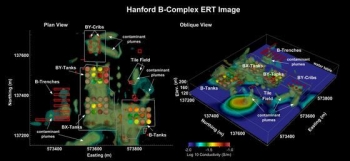 Shown here are high-resolution, three-dimensional ERT images of contaminant distribution
RICHLAND, Wash. – Cold War waste disposal practices resulted in both planned and unplanned releases of large amounts of radionuclide and heavy metal contamination into the subsurface throughout the DOE complex.
Characterizing the distribution of the resulting environmental contamination remains one of the single most significant challenges limiting subsurface remediation and closure, particularly for the unsaturated soil region between the surface and the water table, called the vadose zone.
Through the Deep Vadose Zone-Applied Field Research Initiative (DVZ-AFRI), Pacific Northwest National Laboratory is addressing this problem by developing and deploying advanced subsurface geophysical imaging technologies. DVZ-AFRI is supported through a memorandum of understanding with EM's Office of Soil and Groundwater Remediation and the Richland Operations Office.
By leveraging investments from DOE and the Department of Defense, the DVZ-AFRI developed an advanced high-performance geophysical imaging code that reconstructs subsurface images using Electrical Resistivity Tomography (ERT). This technology provides advancements for site-specific customization that uses high performance computing resources to "see" subsurface contaminant plumes in three dimensions and in unprecedented resolution.
In partnership with DOE, Hanford site contractors CH2M HILL Plateau Remediation Company and Washington River Protection Solutions and subcontractor hydroGEOPHYSICS Inc., the DVZ-AFRI is leveraging this capability to delineate subsurface vadose contamination. Reanalysis of data collected at the Hanford Site's B-Complex revealed previously unknown detail concerning contaminant distribution beneath former waste infiltration galleries. The B-Complex is a waste-storage facility including 40 single-shell tanks used to store high-level nuclear waste, as well as several surface infiltration galleries (cribs, trenches, and a tile field) where low-level waste was discharged into the vadose zone. Visualizations of the results, using the Advanced Simulation Capability for Environmental Management (ASCEM), are now being used to guide subsurface sampling investigations.
The ability to "see" vadose zone contamination amid the complex infrastructure at the B-Complex using the high-resolution ERT images provides a critical scientific and technical capability required to make sound and defensible remedial decisions that will successfully meet target cleanup goals.