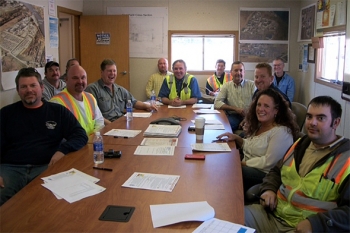 The Separations Process Research Unit Demolition Project Safety Committee meets regularly with employees and supervisors to discuss safety issues and reinforce safe work habits.
NISKAYUNA, N.Y. – Vigilance and dedication to safety led the EM program's disposition project team at the Separations Process Research Unit (SPRU) to achieve a milestone of one million hours — over two-and-a-half-years — without injury or illness resulting in time away from work.
"Safety records do not happen by chance. It takes the project leadership's willingness to set the example, dedication from the workforce to perform work safely and a questioning attitude while planning and executing work to ensure it is performed safely and efficiently," SPRU's EM Federal Project Director Steven Feinberg said. "Our contractor's one-million-hours milestone is a testament to their safety efforts."
The safety accomplishment prompted URS, which is EM's disposition project contractor at SPRU, to present the team with the URS President's Award, which recognizes URS-managed projects that have met significant milestones in safety.
"What makes their achievement truly remarkable is the hard work and hazardous environment that demands safety first," URS Project Manager Patrick Yocum said. That work includes constructing large cleanup enclosures, drilling pylons to stabilize a hillside damaged by severe weather, installing ventilations systems and processing and solidifying waste tank sludge.
SPRU is located at the Knolls Atomic Power Laboratory. It was used as a pilot plant to research the chemical process for plutonium extraction and was shut down in 1953. EM is now responsible for demolishing the former SPRU buildings.
The SPRU Demolition Project Safety Committee was credited with helping the team reach the milestone. The group has responsibility for knowing the status of all activities, the condition of facilities and work environments and actual and potential hazards present. Through facility walk-downs and regular meetings with employees, the committee members learn about safety concerns and changes in safety requirements for demolition and tank waste processing. As ambassadors of project safety, they continually remind employees about the importance of safety.