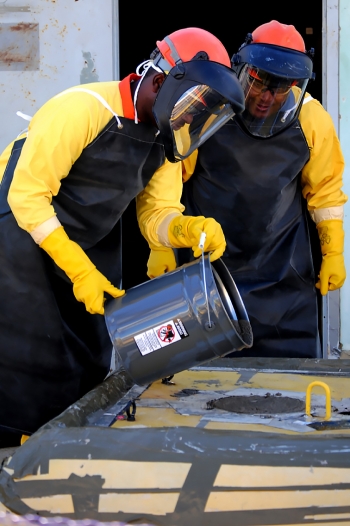 The final amount of grout is poured into Tank 6, marking the operational closure of Tanks 5 and 6.
AIKEN, S.C. – Savannah River Remediation (SRR), the liquid waste contractor at the U.S. Department of Energy (DOE) Savannah River Site, has removed from service two more Cold War-era liquid radioactive waste tanks, marking the third and fourth tanks operationally closed by SRR in the last 14 months.
Grouting and closure of Tanks 5 and 6 were completed approximately two years ahead of schedule on December 18, 2013. Along with Tanks 18 and 19, which were operationally closed in October 2012, SRR has closed four tanks since the first two radioactive waste tanks in the nation were closed at the Savannah River Site in 1997.
Tanks 5 and 6 were constructed in the early 1950s and placed into service in 1959 and 1964, respectively. Both were used as receipt tanks for waste from the F Canyon separations operations, each holding approximately 730,000 gallons of hazardous waste. The tanks underwent extensive bulk waste removal prior to the start of grouting.
Grouting of Tanks 5 and 6 began August 16, 2013.  More than 1.8 million gallons of specially formulated grout was delivered by 1,150 cement trucks and poured into the tanks. Grouting the tanks further eliminated the risk associated with the Site's legacy nuclear waste.
"DOE is committed to protecting our workers, the public and the environment while achieving risk reduction in compliance with our commitments," said Dr. David Moody, DOE Savannah River Operations Office Manager. "By closing four waste tanks in less than two years, we continue reducing that risk. What we are celebrating is a testimony to the fact that we deliver." 
An agreement between DOE, U.S. Environmental Protection Agency and South Carolina Department of Health and Environmental Control required the operational closure of Tanks 5 and 6 by December 2015.
With the operational closure of these tanks, Savannah River Site has 45 remaining underground waste tanks, with nine tanks in waste removal or cleaning phases.
"Historically, SRS liquid waste employees were the first in the country to operationally close waste tanks," said SRR President and Project Manager Ken Rueter. "No other project in the nation continues to reduce the risk associated with this legacy waste like SRR employees at SRS."
SRS is owned by DOE. The SRS Liquid Waste contract is managed by SRR, a team of companies led by URS Corp. with partners Bechtel National, CH2M HILL and Babcock & Wilcox. Critical subcontractors for the contract are AREVA, Energy Solutions and URS Professional Solutions.