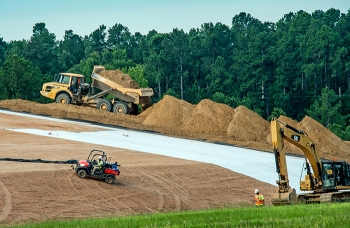 Workers add the geosynthetic layer to the protective mound capping the dirt and coal ash landfill.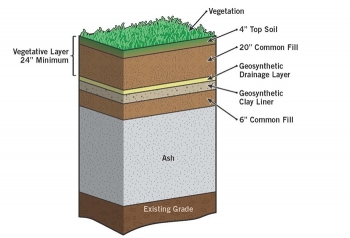 Several layers make up the protected mound capping the landfill containing coal ash and dirt.
AIKEN, S.C. – EM and contractor Savannah River Nuclear Solutions (SRNS) are making progress cleaning up coal ash generated over decades at the Savannah River Site (SRS).
   Workers recently completed the first of two project phases after consolidating 80,000 cubic yards of the ash and dirt into a landfill about 17 football fields in length, creating one highly protected mound. 
   SRS launched an innovative technology in 2013 that burns forest debris, agricultural waste and scrap lumber to generate steam and power. It replaces a five-story coal-burning powerhouse built in 1952 once capable of generating 75 million watts of power. The site shut down the powerhouse in 2012 and is now cleaning up its coal ash.
   The coal ash basin cleanup and use of biomass to generate steam and power help the site transition to clean, renewable energy and more sustainable operations.
   This cleanup is in the best interest of the environment, SRS and the State of South Carolina, according to SRNS Project Manager Susan Bell.
   "This is particularly true given the earthen berms created to make the large, pond-like basins used to store the ash were constructed in the 1950s, a generally accepted practice at the time."
   EM, the SRNS project team and their contractor created the mound's protective cap with two layers of manufactured geosynthetic material, each measuring 827,000 square feet in size, followed by clean soil and grass sod. The layers work together to redirect water away from the mound. 
   "The key is layers of protection," Bell said. "Each layer has its own purpose."
   A team of representatives from DOE-Savannah River, SRNS and state and federal environmental regulatory agencies developed the five-year coal ash basin closure plan using proven technology and methods that enabled the site to successfully close other contaminated basins in the past. 
   "We're confident our project team will see excellent results in the future because of an insistence on best safety practices, innovative engineering and the use of state-of-the-art materials," said Bell. "This project is another example of how SRS puts science to work to make the world safer."
   Workers have begun the second phase, which involves safely and efficiently consolidating 335,000 cubic yards of ash into a second mound. This mound also will be capped with two layers of geosynthetic material, a thick earthen cover consisting of fill dirt and grass-covered topsoil. 
   Since becoming the management and operating contractor at SRS in 2008, SRNS has achieved cleanup of 85 percent of the site's 310 square miles to industrial standards with verification provided through local and federal regulatory agencies.