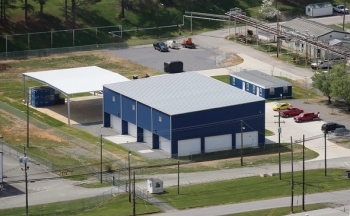 This 13,000-square-foot building constructed by Babcock Services, Inc. is a sign of continued success for the East Tennessee Technology Park Heritage Center.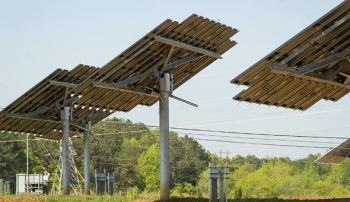 A new solar installation was recently dedicated at the East Tennessee Technology Park Heritage Center in Oak Ridge.
OAK RIDGE, Tenn. – DOE envisions Oak Ridge's East Tennessee Technology Park (ETTP) Heritage Center — a former uranium enrichment site — as a thriving private industrial park.
As EM's Cold War cleanup progresses, Oak Ridge comes closer to that end state through its Reindustrialization program. Currently, 18 private companies operate at the site and several of them have invested in construction projects. For more information, click here and read the highlights below on recent transformations at ETTP:
Babcock Services, Inc. begins operations. This company, which provides services to the nuclear industry, constructed a 13,000-square-foot building at the center to manage, recover and refurbish components from commercial nuclear power plants. This business could bring more than 100 new jobs within three years of operation.
The Babcock investment is a success for the Reindustrialization program. The facility is located on land transferred from DOE to the Community Reuse Organization of East Tennessee (CROET) and subsequently sold to Babcock. CROET will use the sale proceeds to enhance the center's viability as a private industrial park. Most buildings at ETTP have been transferred to the private sector or demolished and more than 200 acres of land has been transferred, creating an opportunity for private investment and job creation.
Newest solar project enhances ETTP. A second solar installation was dedicated at the center, highlighting the continued growth of Tennessee's solar industry and the industrial park's suitability for renewable energy production.
Franklin, Tenn.-based Vis Solis, LLC is leading the project, working with the Tennessee Valley Authority, the German Energy Agency, DEGERenergie (Germany's leading solar manufacturer) and CROET. The system consists of seven ground-mounted geo-trackers that rotate, following the sun to maximize the amount of collected light. Each rotating tracker holds 30 solar panels and the 50-kilowatt photovoltaic system will produce enough power to serve about 15 homes.
"We are pleased to welcome such an innovative solar project and international partnership to Oak Ridge, a city with a rich history in energy innovation and leadership," said Oak Ridge Mayor Tom Beehan. "This solar project further boosts Oak Ridge's reputation as a cutting-edge science and technology hub that's open for business."
This project highlights DOE and CROET's commitment to efficient reuse of land assets at the former K-25 uranium enrichment plant.