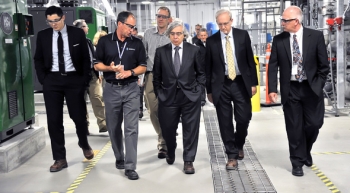 Energy Secretary Ernest Moniz tours the 200 West Pump and Treat System, which treats chemical and radionuclide contamination in Hanford's groundwater. Pictured, left to right, are Special Assistant to the Secretary Mark Appleton, Bob Popielarczyk of CH2M HILL Plateau Remediation Company, Special Assistant to the Secretary T.J. Augustine, Secretary Ernest Moniz, EM Senior Advisor Dave Huizenga and DOE Richland Operations Office Deputy Manager Doug Shoop.
RICHLAND, Wash. – Energy Secretary Ernest Moniz recently visited the Hanford site in southeastern Washington State. While there, Moniz met with site employees, tribal leaders and local elected officials. He also received updates during tours of the Plutonium Finishing Plant, 200 West Pump and Treat System, tank farms, and the Waste Treatment Plant. Moniz toured the site when he served as Under Secretary of Energy in the late 1990s.
"It was striking to see the tremendous progress that has been made in the cleanup. The changes at the site and in the local communities are undeniable and impressive," Secretary Moniz said. "While there is much more to be accomplished, there is clearly a dedicated federal and contractor workforce, engaged community partners, and committed elected officials that are focused on the mission."
Secretary Moniz met with leaders from the Confederated Tribes and Bands of the Yakama Nation, the Confederated Tribes of the Umatilla Indian Reservation, the Nez Perce Tribe and the Wanapum people. These groups have strong cultural ties to the area, and several of them have treaty rights at the site. Tribal leaders have provided guidance to the Department on Hanford's cleanup mission for decades, including the importance of protecting natural, biological, and cultural resources they have used throughout the Pacific Northwest for generations.
Click here to view photos of the Secretary's visit.