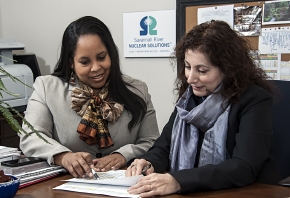 Sabrina Elam (left) and Lorri Wright, who work in procurement for SRNS, review the savings the company achieved.
AIKEN, S.C. – The management and operations contractor for the EM program at the Savannah River Site (SRS) created more than $10 million in cost savings in fiscal year 2013 by adopting successful purchasing practices used by America's top companies.
Prior to that year, Savannah River Nuclear Solutions (SRNS) benefited from high-volume purchasing at the company level. The SRNS supply chain management has since teamed up with contractors at several DOE sites across the complex to greatly increase the company's overall buying power.
"We looked at several other best business practices used by this group of DOE sites to further increase our savings," said Helena Tirone, SRNS director of supply chain management.
"The support that SRNS has provided for the use of Supply Chain Management Center (SCMS) tools provided by EM has been exceptional," said Ralph Holland, deputy director of the Environmental Management Consolidated Business Center in Cincinnati. "The tangible savings that SRNS's efforts have provided is a tribute to the determination and commitment of those involved, and delivers value to the taxpayer."
One of the procurement methods implemented by SRNS provides supply vendors with an online, timed monetary bidding process. The low bid wins in the SRNS process.
The effort and resources dedicated to this project paid off. Working with the DOE procurement team known as the SCMC, SRNS personnel quickly achieved their initial goal of $1.67 million in cost savings. And through the use of multiple savings initiatives beyond those tools provided by the center, the overall savings achieved for fiscal year 2013 reached $10.2 million. The center uses new technologies and pooled purchasing power to drive efficiencies, resulting in lower costs.
"The primary value of this extraordinary team effort is a significant savings for our nation's taxpayers," SRNS President and CEO Dwayne Wilson said. "We're now using several highly effective procurement strategic sourcing and acquisition savings tools with the result being a highly cost-efficient process for the purchase of both products and services. This is an impressive example of where governmental procurement has learned and benefitted from our counterparts in corporate America."
EM asked SRS to be the EM pilot site for the new procurement program and to mentor 18 EM contractors new to the concept at sites such as Paducah in Kentucky and Hanford in Washington state.
"We readily agreed to share our newly developed expertise with a variety of companies under contract to DOE around the nation," Tirone said. "Everyone in our group was honored by the request."
Examples of items being purchased through this cooperative effort include commercial software, laundry services, travel card services, laboratory supplies, ammunition and safety glasses. 
"Just to give you an idea of the volume we're talking about, through the combined purchasing power of multiple DOE sites, it would not be surprising for us to order 1,000 lab coats, 2,000 pairs of safety glasses or 5,000 recordable DVD discs," Tirone said. 
Thousands of goods and services are being purchased through this successful enterprise.