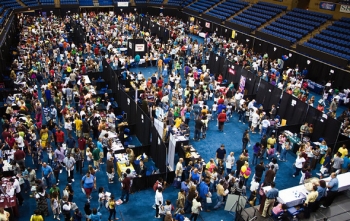 This photo shows the annual Central Savannah River Area College Night event, which was attended by more than 7,000 area high school students. The event is managed by SRNS employees.
School systems in eight counties near the Savannah River Site benefit from contractor's education outreach, which reaches nearly 30,000 students and teachers annually 
AIKEN, S.C. – Employees with Savannah River Nuclear Solutions (SRNS) have conducted education outreach for tens of thousands of students each year since acquiring the management and operations contract for the EM program at the Savannah River Site (SRS) in 2008.
In the most recent full school year alone, nearly 30,000 students and teachers took part in 10 SRNS educational outreach programs and numerous events.
SRNS aims to draw student interest in science, mathematics, engineering and technology (STEM) with each SRNS outreach program and event. In addition, the SRNS effort enhances student education by providing unique resources found only at SRS to the education systems in the eight counties near SRS.
"We believe in the importance of business, industry, government and the education community all working together as partners to improve the educational opportunities for every student in our region," DOE Savannah River Operations Office Manager David Moody said.
Many of the SRNS programs involve learning through friendly competition. They include the DOE Savannah River Regional Science Bowl and the Future City Competition. Future City is a national program that promotes teamwork and creativity and develops a sense of individual responsibility as team members work together to solve science and engineering problems while creating an innovative city of the future.
SRNS also manages the Central Savannah River Area (CSRA) Science Fair. CSRA includes 13 counties in Georgia and five counties in South Carolina.
An annual SRNS educational event that reaches a large number of students is CSRA College Night. Managed by SRNS personnel, the event attracted more than 7,000 area high school students last year. Employees from several local companies volunteered at the event, which required the entire floor space of the James Brown Arena in Augusta, Ga. More than 150 colleges and universities typically attend College Night.
SRNS Education Outreach and Talent Management Manager Candice Dermody said efforts to assist teachers through SRNS corporate funding include the Innovative Teaching Mini-Grants Program. This competitive program provides grants to area public and private elementary and middle school teachers for innovative ideas. During the past school year, the program awarded grants totaling $75,000 for 172 teachers.
Other STEM initiatives offered through SRNS include the Traveling Science Demonstration Program, Science & Technology Enrichment Program, Introduce a Girl to Engineering and various workshops, tours, lectures and demonstrations.
"The SRNS Education Outreach Program is a tremendous resource. With little or no fanfare, they continue each and every year, without fail, to be an asset to our region's school systems in too many ways to list," said Jeff Howell, executive director of Public Education Partners, a nonprofit organization created to improve public education. "They are our unsung heroes assisting underfunded teachers while bringing scholarships and a myriad of special learning opportunities to an amazing number of students. I'd give them an A+."
SRNS President and CEO Dwayne Wilson said that the SRNS desire to invest in these programs is another way the company shows its appreciation to surrounding communities for their continued support of the SRS mission.
"We are helping to mold and shape the minds of future employees for area industry and, potentially, future leaders within our own company," he said.