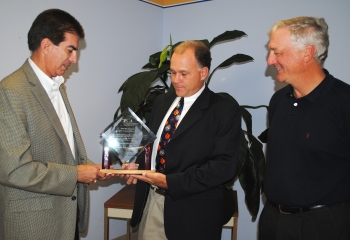 SRR Bubbler Project Manager Bill Pepper, center, accepts the PMI Project of the Year award from Eloy Saldivar, left, president of the Savannah River Chapter of PMI. DWPF Facility Manager Les Sonnenberg is on the right.
AIKEN, S.C. – The local chapter of the Project Management Institute (PMI) recently honored the Savannah River Site liquid waste contractor with its 2011 Project of the Year award.
Savannah River Remediation (SRR) was recognized by the chapter of the world's largest project management member association for installing bubbler technology in the site's Defense Waste Processing Facility (DWPF) Melter Bubbler project in September 2010. The technology increased the production of waste canisters for permanent storage.
Eloy Saldivar, president of the Savannah River Chapter of PMI, said the SRR bubbler project submission was a good example of coordination and efficiency.
"The integrated bubbler project team showed considerable proficiency in coordination with multiple agencies on the project and had a scope and schedule that were clearly defined and met," Saldivar said.
Highly-radioactive waste sludge is added to the canisters and vitrified into a stable glass form. The bubblers blow argon gas bubbles into the DWPF's 65-ton melter to provide a more uniform and higher temperature throughout the molten glass, which increases the rate of glass production.
Jean Ridley, DOE manager for the project, said the team met DOE expectations by safely implementing the facility modifications.
"The SRR integrated bubbler project team effectively executed the project ahead of schedule, delivering enhanced canister production capability at DWPF, which will help accelerate waste processing and maintain our momentum in closing the site's waste tanks," Ridley said.
The bubblers also helped SRR achieve production enhancement goals, SRR Bubbler Project Manager Bill Pepper said.
"During fiscal year 2011, DWPF produced 267 canisters — a record number of canisters filled in a single year," Pepper said. "We thank our dedicated project team for that accomplishment. The team planned, integrated and executed all the engineering, design, fabrication, installation, startup and commissioning activities associated with this project."