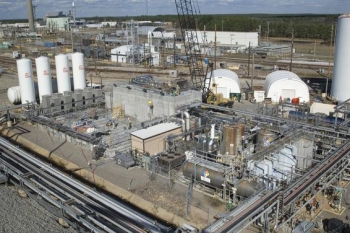 Pictured here is a component of the Interim Salt Disposition Process — known as Modular Caustic Side Solvent Extraction Unit (MCU) — that helped Savannah River Remediation process more than 500,000 gallons of salt waste since October last year, a contract milestone.
AIKEN, S.C. – The Savannah River Site's liquid waste contractor recently achieved a contract milestone by processing 500,000 gallons of salt waste in underground tanks for disposition since October last year.
"I congratulate Savannah River Remediation (SRR) for reaching this initial milestone," said Terrel Spears, Assistant Manager for Waste Disposition Project, DOE Savannah River Operations. "Processing salt waste is essential for us and our mission to close tanks. The salt processing technologies utilized have proven very effective in removing the radioactive constituents from salt waste and the processing rates being achieved are encouraging."
A second SRR contract milestone calls for an additional 450,000 gallons of salt waste to be processed by the end of September this year. SRR has processed more than 2.5 million gallons of salt waste for disposition since 2008.
SRR operates the Interim Salt Disposition Process (ISDP) to prepare the salt waste for disposition. The ISDP is being used temporarily until that work can be completed by the Salt Waste Processing Facility, which is being constructed.
In the ISDP, radioactive isotopes are removed from the salt waste solutions in the tanks. The chemical isotopes removed include cesium, plutonium and strontium. Those isotopes are transferred to the Defense Waste Processing Facility, where they are mixed with molten glass and placed in stainless steel canisters for permanent storage. The remaining low-level salt solution is converted into a grout-cement mixture at the Saltstone facilities and pumped into concrete vaults for permanent disposal.
Dave Olson, SRR President and Project Manager, said salt waste constitutes 90 percent of the total waste inventory stored in SRS's two tank farms, and the removal and processing of the salt waste is key to SRR achieving its mission to close the tanks.
"The milestone demonstrates the safe and continuous operations of a key component in the waste removal process at SRS," Olson said.